'Ash Vs. Evil Dead' Season 2 Teaser Is All About Guts And Glory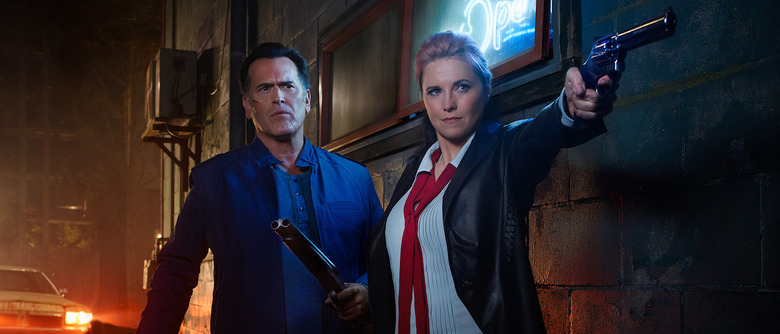 Starz was so high on Ash vs. Evil Dead, they renewed it for a second season before the first season even premiered. And they're so thrilled about that second season, they're wasting no time showing it off. Though Ash vs. Evil Dead season 2 won't premiere for another few months, Starz has just served up the first deliciously gory teaser trailer and image. 
The video loudly proclaims "no guts, no glory!" but in truth there is plenty of both to be found here. If you're in an office with people who might be less than thrilled to see gore and blood by the bucketful, or if you're currently eating and do not want to lose your appetite, you might want to save this one for later.
There's also a first-look teaser image featuring Bruce Campbell as Ash and Lucy Lawless as Ruby: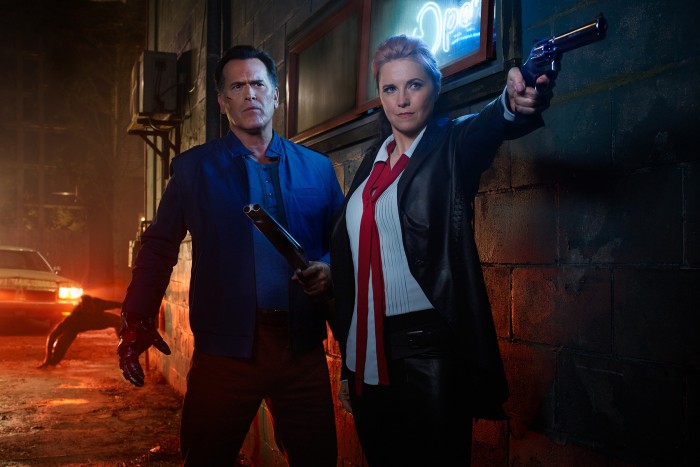 Here's an official description for Ash vs Evil Dead season 2;
The second season roars back into action with Ash leaving his beloved Jacksonville and returning to his hometown of Elk Grove. There, he confronts Ruby. The former enemies have to form an uneasy alliance as Elk Grove soon becomes the nucleus of evil.
The cast is led by Bruce Campbell (Evil Dead, "Burn Notice") in the role of Ash Williams; Lucy Lawless ("Salem," "Spartacus") as Ruby, who now possesses the powerful Necronomicon; Ray Santiago ("Touch," Meet the Fockers) as Pablo Simon Bolivar, Ash's loyal sidekick dealing with the trauma he suffered in the cabin; and Dana DeLorenzo (A Very Harold & Kumar 3D Christmas) as Kelly Maxwell, who, grief-stricken after the death of her parents, plots revenge against The Evil Dead.
Joining the cast this season are Lee Majors (The Six Million Dollar Man) as Ash's father Brock Williams; Ted Raimi (The Evil Dead) as Ash's childhood BFF Chet Kaminski; and Michelle Hurd (Daredevil) as Ash's high school love Linda. The ten-episode second season kicks off in October.