'The Dark Tower' Photo: Ron Howard Poses With Idris Elba As Roland The Gunslinger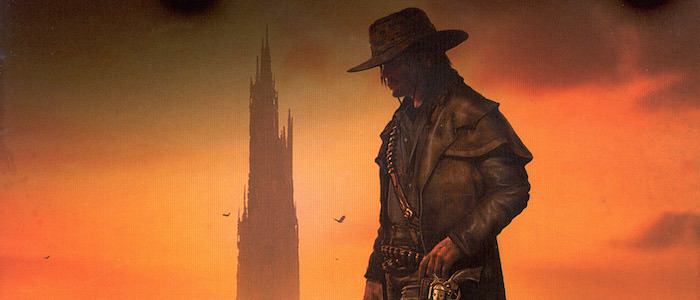 "The man in black fled across the city, and the iPhone cameras followed." That should be the new opening line for The Dark Tower, Nikolaj Arcel's new movie based on Stephen King's bestselling fantasy series. Since production moved to New York, the internet has been flooded with photos of stars Idris Elba and Matthew McConaughey, taken by paparazzi and random passersby.
Today, producer Ron Howard got in on the fun as well, sharing a photo of himself with Arcel and Elba in full gunslinging gear. See the behind-the-scenes Dark Tower photo below. 
I joined @idriselba & director Nikolaj Arcel in #NYC for #DarkTowerMovie production Dream Team 4 a Dream Project pic.twitter.com/X3REnQDf7b

— Ron Howard (@RealRonHoward) July 2, 2016
It's not the best look at Elba's character, since we only see him from the waist up. But since it's close up, we do get a better look at the details of his shirt, vest, and jacket. (And then we get to wince at the thought of poor Elba running around the July heat in all those many layers.) You can find more photos of Elba in character around the web, and there are a few floating around of McConaughey as well. Want even more? Here are some photos featuring Tom Taylor as Jake Chambers, and still others that hint at certain potentially spoiler-y plot points.
The Dark Tower is a sprawling fantasy epic centered on Roland Deschain, a gunslinger on the quest to find the dark tower that is the nexus of all universes. Standing in his way is the villainous Man in Black. That's the simplest way to describe it, because the story gets much, much more crazy and complex and convoluted from there.
As we've reported before, The Dark Tower movie will not be a direct adaptation of the first book of King's saga. It'll take liberties with the source material and mix in elements from the later novels and perhaps even add in some new stuff (careful, there are spoilers at that link). But you've probably already guessed as much if you've been paying attention to the cast list: we've got Jackie Earle Haley as Richard Sayle, Abbey Lee as Tirana, and Fran Kranz as Pimli, plus Katheryn Winnick, Michael Barbieri, and more.
The Dark Tower arrives in theaters February 17, 2017.