One More 'Kubo And The Two Strings' Trailer Offers Epic Magic And Some Laughs Too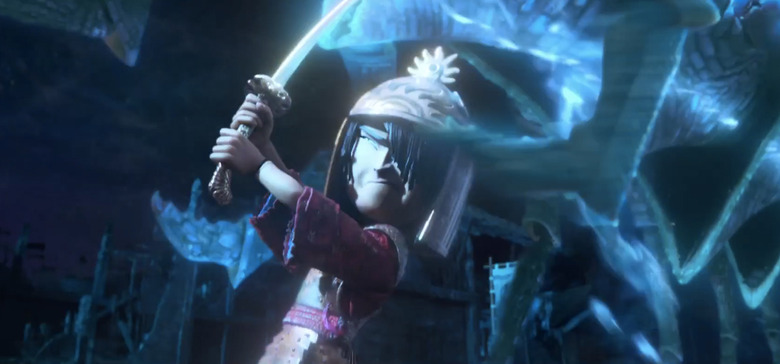 We know that the last Kubo and the Two Strings trailer was supposed to be the final one, but it looks like Focus Features and LAIKA wanted to show off a little more from their anticipated stop-motion animated fantasy epic. It's a quick new trailer, but it has plenty of new footage featuring Kubo stepping into the big shoes left behind by his warrior father, as well as some little bits of humor as well.
Watch the new Kubo and the Two Strings trailer after the jump.
The more I see of Kubo and the Two Strings, the more impressed I am by what stop-motion animation can accomplish nowadays thanks to the wonder of technology. Not too long ago, several outlets posted in-depth looks behind the scenes of the animated flick, and you can check out one of those reports over at io9. It's incredible to hear how LAIKA is using the latest tools and technology to bring their movies to life in a much more efficient way.
For a glimpse behind the scenes of Kubo and the Two Strings, check out this short video:
Look at how massive some of those setpieces are! And the detail that each model has is even more impressive. This is undoubtedly a movie we can't wait to see later this summer, and hopefully it will be on par with the greatness LAIKA has delivered in the past with Coraline, ParaNorman and The Boxtrolls.
If you want to see more from Kubo and the Two Strings, watch the previous trailer right here.
Clever, kindhearted Kubo (voiced by Art Parkinson of "Game of Thrones") ekes out a humble living, telling stories to the people of his seaside town including Hosato (George Takei), Akihiro (Cary-Hiroyuki Tagawa), and Kameyo (Brenda Vaccaro). But his relatively quiet existence is shattered when he accidentally summons a spirit from his past which storms down from the heavens to enforce an age-old vendetta. Now on the run, Kubo joins forces with Monkey (Charlize Theron) and Beetle (Matthew McConaughey), and sets out on a thrilling quest to save his family and solve the mystery of his fallen father, the greatest samurai warrior the world has ever known. With the help of his shamisen – a magical musical instrument – Kubo must battle gods and monsters, including the vengeful Moon King (Ralph Fiennes) and the evil twin Sisters (Rooney Mara), to unlock the secret of his legacy, reunite his family, and fulfill his heroic destiny.
Kubo and the Two Strings arrives on August 19.