'Five Nights In Maine' Trailer: David Oyelowo Butts Heads With Dianne Wiest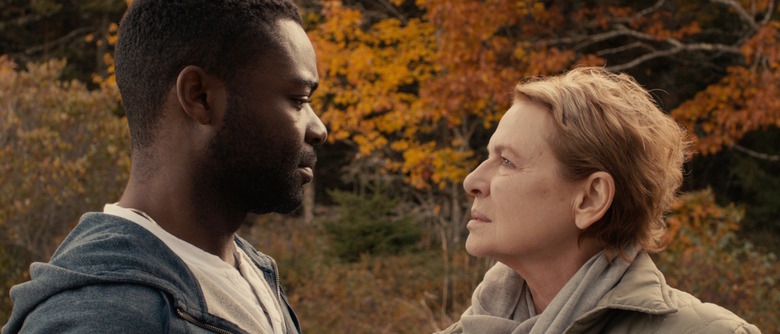 What happens when a first time feature filmmaker throws two powerhouse performers at each other? You might get something like Maris Curran's Five Nights in Maine, starring David Oyelowo as a grieving widower who visits his estranged mother-in-law (Dianne Wiest). Their relationship is chilly to begin with, and they aren't exactly quick to warm to each other once they're face-to-face. But the visit sets both on a difficult journey of healing.
Five Nights in Maine hit the festival circuit last year, and is now headed for release in the U.S. next month. Rosie Perez co-stars as Wiest's nurse, and Teyonah Parris plays Oyelowo's sister. Watch the Five Nights in Maine trailer below. 
Films about grief can so easily tip over into sappy sentimentality or brutal misery porn. But Five Nights in Maine looks more subtle and restrained. Maybe even too subtle and restrained, based on some of the reviews from its TIFF premiere. Here's The Hollywood Reporter's John Frosch: "This lugubrious indie drama is affecting in parts but never gels into a satisfying whole. Part of the problem, ironically, is also what makes the film unusual: its exceedingly light touch in dealing with race."
Variety's Andrew Frosch was slightly more forgiving, but had some of the same complaints: "Attempting to naturalistically capture the hugely internal process of mourning, but rarely managing to offer much of an opening into that process, Curran's tasteful, challenging yet ultimately inscrutable debut feature never quite lives up to the caliber of her fine cast."
Five Nights in Maine arrives in theaters and on demand August 5.
After his wife dies in a tragic car accident, young Sherwin (David Oyelowo) is called to Maine by his terminally ill and estranged mother-in-law Lucinda (Dianne Wiest). Grappling with a lifetime of disagreements, Lucinda and Sherwin find themselves forced to cope with their failings and grief in a quiet journey of empathy, compassion and healing.