Marc Summers Returns To Host 'Double Dare' At Comic-Con, And You'll Be Able To Watch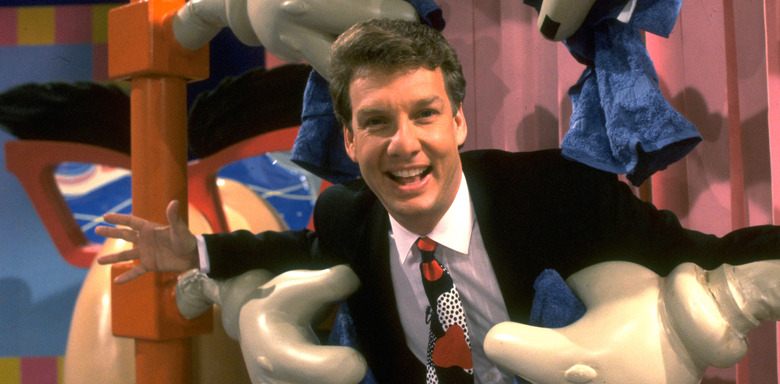 Children of the late '80s and early '90s are undoubtedly familiar with the Nickelodeon family game show Double Dare. Airing from 1986 to 1993, the show followed two-member teams of kids answering trivia questions and competing in messy physical challenges, culminating in the famous obstacle course at the very end. And in honor of Double Dare's 30th anniversary, the show is coming back in July.
Nickelodeon has announced that Double Dare is coming to San Diego Comic-Con on Friday, July 22 for a special live edition of the show, and original host Marc Summers will be back as host. Find out more about Double Dare at Comic-Con after the jump.
The official 30th anniversary of Double Dare won't happen until October 6, but Nickelodeon is ready to celebrate early by streaming this live edition of the show straight from San Diego by way of Facebook Live on The Splat's Facebook page. Starting at 9:30pm Pacific time on July 22, fans will be able to watch the whole game play out.
The physical challenges being revived include the Wringer, Down the Hatch, the Human Hamster Wheel and the Double Dare Nose. If you need a reminder of what some of these challenges were like, check out this video:
For those lucky enough to be in attendance at Comic-Con, you'll have a chance to meet Marc Summers at a signing event at Nickelodeon's booth #4113 on the convention floor. There you'll also be able to take pictures with the Double Dare nose.
The week after Comic-Con, there will be a whole Double Dare Week on The Splat (the programming block on TeenNick) beginning on Monday, July 25 at 10pm ET/PT. Marc Summers will be appearing during that special programming revival where Double Dare interstitials will air along with memorable moments from the original show, including Family Double Dare and Double Dare 2000.
This is all part of Nickelodeon's big push of nostalgia from the '80s and '90s that started with The Splat last year. In addition to Double Dare coming to Comic-Con, there's that Legends of the Hidden Temple movie in the works, as well as a Hey Arnold! movie too. Plus, there's supposed to be some kind of NickToons movie on the way as well. Nostalgia is definitely king at Nickelodeon right now, and fans seem eager to eat it up.
If you're looking for some nostalgic reading material, head over to Thrillist for an oral history of Double Dare on Nickelodeon and learn some things about the game show you may not have known.