'Celluloid Wizards In The Video Wasteland' Trailer: The Story Of Empire International Pictures Arrives In Documentary Form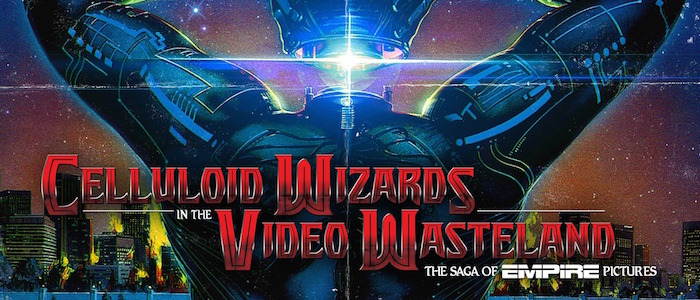 Documentaries exploring the strange niche corners of the film world aren't new, but they tend to be fascinating. Director Mark Hartley built his career on this subgenre with films like Not Quite Hollywood, which explored the Australian exploitation film scene, and Electric Boogaloo, which told the truly insane story of Canon Films and the people who worked there. Cem Kaya's Remake, Remix, Rip-Off took a deep dive into the world of early Turkish cinema, where little things like copyrights were ignored by plucky and energetic filmmakers with no money. At their best, these kinds of docs offer genuine insight into specific film movements, especially since the directors, writers and producers involved tend to be at a point in their lives when they're perfectly comfortable telling the whole truth and nothing but the truth. At their worst, they're still a ton of fun, offering up a smorgasbord of great clips from oddball movies.
The latest incredibly specific film history documentary on the scene is Celluloid Wizards in the Video Wasteland: The Saga of Empire Pictures, which tells the story of producer Charles Band and the eclectic (and occasionally great) schlock his small studio brought to the screen during the '80s. The first trailer for the film has arrived and you can (and should) watch it below.
The Celluloid Wizards in the Video Wasteland trailer mostly consists of footage from Empire International Pictures' slate of bizarre low-budget genre movies, including Re-Animator, Ghoulies, Robot Jox, Trancers, and From Beyond. This feels very much like an early preview for a movie that is still a major work in progress – talking heads from those involved are teased, but we don't get to hear a single anecdote from anyone involved. And that's fine, because a reel of bonkers imagery from these movies feels like enough of a promise already. Even if you aren't familiar with this particular flavor of great/awful '80s junk food, the footage on display here will leave you wondering "Who made this and can they explain it to me?"
Since this is a small and independently produced documentary about a studio that most normal people know nothing about (it was partially funded on Kickstarter), Celluloid Wizards in the Video Wasteland doesn't have a release date and it's not even guaranteed to have serious play at the film festival circuit. However, there is an audience for this and if the movie is good, it's hard to imagine it not playing at genre festivals like Fantastic Fest later this year.
Here is the official synopsis for the film:
Scientists. Psychopaths. Aliens. Mutants. Cyborgs. Trolls. Valet Girls. Sorority Babes. These are only a few of the extraordinary characters that populated the cinematic universe of Empire Pictures, the short-lived film studio founded in the 1980's by legendary B-movie producer Charles Band (The Puppet Master series). While other independent studios were targeting the growing home video market, Band was producing low-budget horror and fantasy features for multiplexes worldwide.
But, while Band ambitiously exclaimed "2,000 movies by the year 2000", his newfound studio was rapidly crumbling beneath him. His unbridled passion for motion picture marketing and distribution clashed with scandalous banking practices, largely due to a turbulent relationship with the infamous Crédit Lyonnais. But what really caused the youthful film company to crash and burn upon the sticky floors of empty movie theaters?
From the immediate box office success of "Re-Animator" and "Ghoulies", to abysmal failure of "Eliminators" and "TerrorVision", this unique documentary chronicles the epic journey of Charles Band's Empire Pictures. Beginning with his childhood spent on the set of his father's productions, and ending in the controversial aftermath of his first motion picture company, "Celluloid Wizards in the Video Wasteland" reveals the true origin story of one of the last surviving B-movie producers in Hollywood!