'Batman: The Killing Joke' Clip: Who Will Kill Who?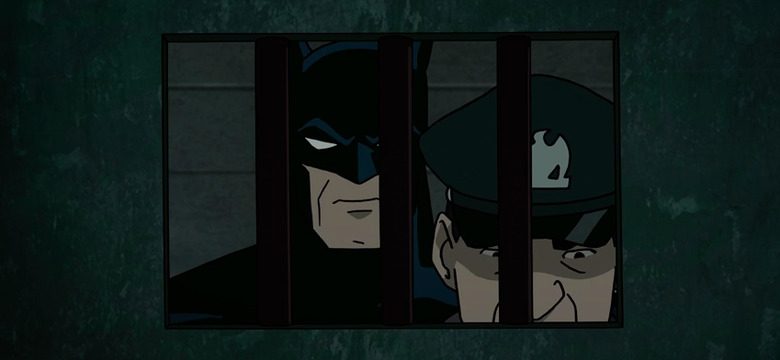 An R-rated, animated adaptation of Alan Moore and artist Brian Bolland's "Batman: The Killing Joke" is almost here. Towards the end of the month, Sam Liu's (co-director of Batman: Year One) film will play in theaters for one night only, before it hits DVD and Blu-Ray the following week. The first clip released for the feature doesn't show us whether the adaptation is as dark as the source material, but it's a good character moment with a conflicted Batman.
Below, watch a Batman: The Killing Joke clip.
In the animated film, Kevin Conroy and Mark Hamill return to the roles of Bruce Wayne and The Joker. In this clip, Batman takes a trip to Arkham Asylum, in an attempt to reason with The Joker. His conversation doesn't go according to plan.
Here's the Killing Joke clip, which starts at 3:57 mark (Source: DC Entertainment):
By this point, Conroy and Hamill are old pros at voicing these characters. Conroy, again in this clip, reminds us of how well suited he is for the role. He makes Wayne sound genuinely conflicted and worried about "the inevitable." Both Conroy and Hamill have said how faithful of an adaptation Batman: The Killing Joke is, that it's not softening any of the comic book's edges, possibly including what Alan Moore does with Barbara Gordon/Batgirl (Tara Strong) and Commissioner Gordon (Ray Wise). It's an unpleasant story, and it wouldn't be surprising if some story elements get sugarcoated, but based on everything we've seen so far and what we've heard, Batman: The Killing Joke looks and sounds like a surprisingly faithful adapation.
Here's the official synopsis:
Based on the acclaimed DC graphic novel of the same name, Batman: The Killing Joke takes a journey into the dark psyche of the Clown Prince of Crime – from his humble beginnings as a struggling comedian to his fateful encounter with Batman that changes both of their lives forever. Years later, and now escaped from Arkham Asylum, The Joker devises a plan to prove that one bad day can make anyone as insane as he is – setting his sights on Commissioner Gordon. It's up to the Dark Knight to put a stop to The Joker's latest scheme and save one of Gotham City's finest. Following a gripping prologue introducing Barbara Gordon's heroic adventures alongside Batman as Batgirl, Batman: The Killing Joke stays true to the authentic tale that has held fans' imaginations for nearly three decades – spotlighting the birth of a Super-Villain, the fortitude of a Super Hero and the punchline that will leave you speechless.
Batman: The Killing Joke is available on DVD and Blu-Ray August 2nd.