'Imperium' Trailer: Daniel Radcliffe Has To Convince People He's A White Supremacist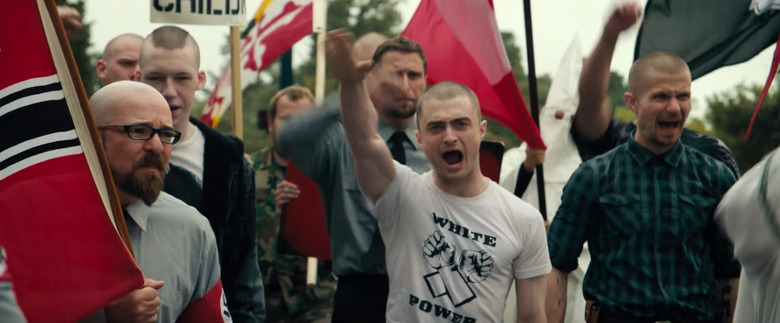 You've gotta hand it to Daniel Radcliffe. While he'll probably always best be known for playing the Boy Who Lived, he's made some really interesting and eclectic choices post-Harry Potter. You can currently see him playing a tech whiz in Now You See Me 2 and a farting corpse in Swiss Army Man, and next we'll see him as a fake white supremacist in Imperium.
Based on a true story, Imperium stars Radcliffe as an idealistic FBI agent who goes undercover to infiltrate a radical right-wing terrorist group. It's a darker, grittier role than we've seen Radcliffe tackle in the past, and it requires him to bust out his American accent. Is he up for the challenge? Find out with the Imperium trailer below. 
Over the past few years, Radcliffe has emerged as one of the most exciting stars of his age. Part of that is his sheer versatility: he's done romantic comedy (What If), historical drama (Kill Your Darlings), dark fantasy (Horns), television (A Young Doctor's Notebook) and whatever Victor Frankenstein was supposed to be. But he's also just plain talented. His performance as a dead body in Swiss Army Man is — I kid you not — one of the very best of 2016 so far. Imperium looks like an intriguing next step for him, although it's hard to tell just from the trailer how he fares here.
The story behind Imperium also looks fascinating. It's the feature directing debut of Daniel Ragussis, who wrote the script with help from Michael German, the real-life agent on whom the film is based. German spent over a decade working for the FBI, often going undercover among white supremacist militias and in one case successfully foiling a plot to attack a black church. He eventually resigned in 2004 after blowing the whistle on FBI mismanagement. Hopefully his involvement will give Imperium a sheen of realism and a layer of nuance. This looks like something a little more thoughtful than your usual hero-agent tale.
Imperium hits theaters and on demand August 19.
Nate Foster (Daniel Radcliffe), a young, idealistic FBI agent, goes undercover to take down a radical right-wing terrorist group. The bright up-and-coming analyst must confront the challenge of sticking to a new identity while maintaining his real principles as he navigates the dangerous underworld of white supremacy. Inspired by real events, IMPERIUM stars Daniel Radcliffe, Toni Collette, Tracy Letts, with Nestor Carbonell, Burn Gorman and Sam Trammell and will be released by Lionsgate Premiere in theaters and on demand August 19.