'Ghost In The Shell' Producer Responds To Casting Controversy: "We've Been Very, Very Careful"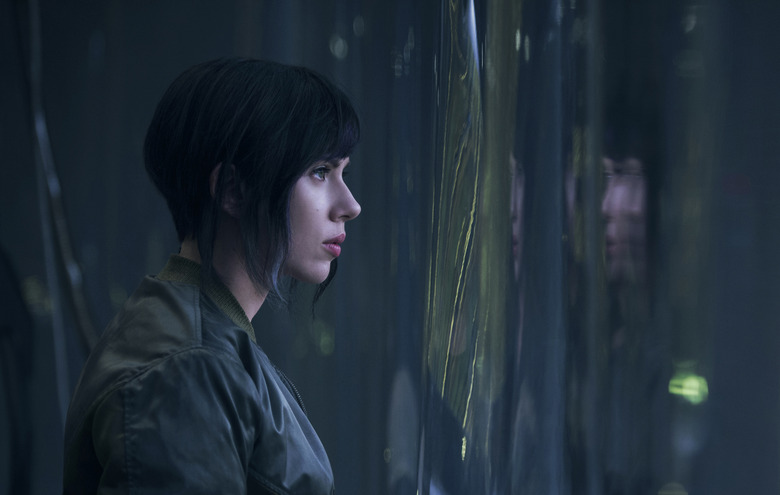 After many, many years stuck in development, Paramount and DreamWorks' live-action remake of Ghost in the Shell finally began shooting this spring — and promptly stirred up a boatload of controversy. At issue was the decision to cast Scarlett Johansson in the lead role. Hollywood has a long and ugly history of whitewashing, and many fans were less than thrilled to see a white actress take on an iconic Asian role.
But producer Steven Paul is sure fans will come around eventually. He defends the controversial casting as "the right approach," insisting that fans will be "very, very happy" with the film. Read his reaction to the Ghost in the Shell casting controversy below.
Paul responded to the Ghost in the Shell casting controversy in a conversation with Buzzfeed:
I think everybody is going to end up being really happy with it. They're going to be very, very happy with it when they see what we've actually done with it, and I don't think anybody's going to be disappointed.
He later added:
I think we've done the manga comic great honor. As I said, the fans will be very happy, because there's a great respect that's been paid to the manga. We've been very, very careful. Obviously, there's some new imagination, as well. I mean, like anything, when you're making a movie, you've gotta bring your own.
Paul seems to be counting on the quality of Ghost in the Shell, and Johansson's performance in it, to smooth over any complaints about the casting. But can it? The controversy was never really about the artistic quality of the movie, or Johansson's talents as an actress. People are unhappy that the filmmakers chose Johansson, a white actress, for the lead role. It's difficult to imagine what the film could do to make that problem disappear, though stranger things have happened.
Part of the problem stemmed from the fact that many fans see Ghost in the Shell as a uniquely Japanese tale. But Paul disagrees:
I don't think it was just a Japanese story. Ghost in the Shell was a very international story, and it wasn't just focused on Japanese; it was supposed to be an entire world. That's why I say the international approach is, I think, the right approach to it.
Among other things, that "international approach" means simply calling the lead character "the Major," rather than Major Kusanagi as she's called in the source material. (Apparently even the people who cast Johansson in the first place thought it would be weird to have a white woman running around with a Japanese name.) And while the original story is set in the fictional Japanese city of Niihama, Paul explains that the new movie unfolds in "an international world":
There [are] all sorts of people and nationalities in the world in Ghost in the Shell. We're utilizing people from all over the world. ... There's Japanese in it. There's Chinese in it. There's English in it. There's Americans in it.
This is not so different from the excuse Ridley Scott offered when asked why the Egyptians of Exodus: Gods and Kings looked so white. Scott's movie turned out not to be all that diverse after all — nearly the entire main cast was white, although there were some non-white extras — but maybe Paul's will be a bit more convincing. In addition to Johansson, the Ghost in the Shell cast includes Pilou Asbæk as Batou, Michael Pitt as Kuze, Takeshi Kitano as Daisuke Aramaki, and Juliette Binoche as Dr. Ouelet, plus Kaori Momoi, Chin Han, Danusia Samal, Yutaka Izumihara, Tuwanda Manyimo, and Rila Fukushima.
In any case, Paul isn't letting the grumbling over Ghost in the Shell discourage him from bringing more Japanese source material to American audiences. He's also making a live-action version of Lone Wolf and Cub: The Final Conflict, a 1992 movie based on a 1970s manga. Paul says that cast will "probably" have more Japanese stars. "My initial instinct is that they will be primarily Japanese because they're samurai, and the whole story is very, very Japanese in the sense of what they are," he said.
Rupert Sanders is directing Ghost in the Shell, which opens March 31, 2017.