'Justice League': J.K. Simmons Will Show Off Commissioner Gordon's "Badass" Side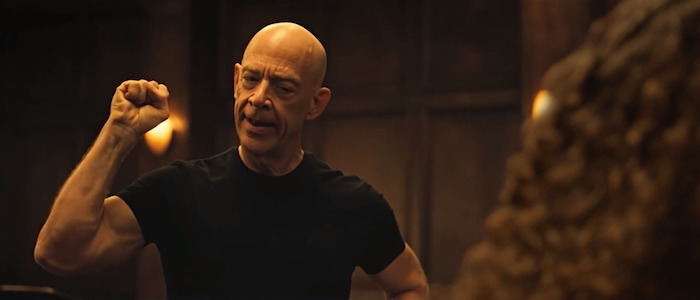 Last month, we got a bit of workout inspiration from a surprising source: J.K. Simmons, looking impressively ripped just as Justice League was shooting. The actor had recently been cast as Commissioner Jim Gordon, Batman's ally, in the new DC movie, and the assumption was that he was getting in shape for the role. And yet when Peter visited the set of Justice League not long after that, he reported that Simmons looked like a pretty traditional take on the character. So what, exactly, can we expect from the new Jim Gordon?
In a new interview, Simmons says he hopes his Gordon will tap into "a little bit more of that badass side." However, he insists his jacked body is just for him, not for the role. Read the JK Simmons Commissioner Gordon comments below. 
Speaking to Entertainment Weekly, Simmons revealed how his Gordon might differ from other versions we've seen before:
People of my generation remember Commissioner Gordon as this jolly, ineffectual Santa Claus type, and I think over the years in the comics there's definitely much more of a badass side to him. One of the things that's interesting to me is investigating hopefully a little bit more of that badass [side]... You're living in a universe where it's pretty tough to be a badass compared to somebody like Batman, but in the universe of non-superheroes I like the idea of Commissioner Gordon as a guy that can take care of himself, a guy that's a real partner to Batman, not just a guy that turns on the bat signal and goes, 'Help! Help, Batman!'
Nevertheless, Simmons insisted in a separate chat with The Huffington Post that it's a "gigantic misconception" that his recent gym trips have anything to do with Justice League:
I just like to work out now. And getting to the gym really has nothing... I'm not going to the gym because of Justice League. I'm just going to the gym because after the last time I got super fat and out of shape, I decided that I was done doing that." I was going to — for as long as I'm going to be on the planet — I'm going to try and take care of myself. So that's pretty much coincidental [to filming Justice League].
On the set of Justice League, director Zack Snyder told Peter and the other assembled journalists that Simmons "looks like Commissioner Gordon from the comics." And Peter concurred, writing in his wrap-up report that Simmons more or less resembles the Commissioner Gordon from the comics and animated series. Perhaps Gordon will get a chance to show off his strength at some point, but it doesn't exactly sound like he's running around Gotham City in muscle-baring tank tops.
It still seems possible that Simmons' Gordon will get some kind of action scene, particularly given Simmons' comments about his character being able to "take care of himself." But Simmons has admitted that his role in this one is "very small," so then again maybe not. Or maybe Simmons just wants to keep up his strength in case his Gordon gets to come back. He told Entertainment Weekly that the Justice League shoot has "been a fun experience, and knock wood, if it continues, then I'll hopefully get to play Commissioner Gordon in a handful of movies."
Justice League opens November 17, 2017.