'Goonies 2': Corey Feldman Explains Why It'll Probably Never Happen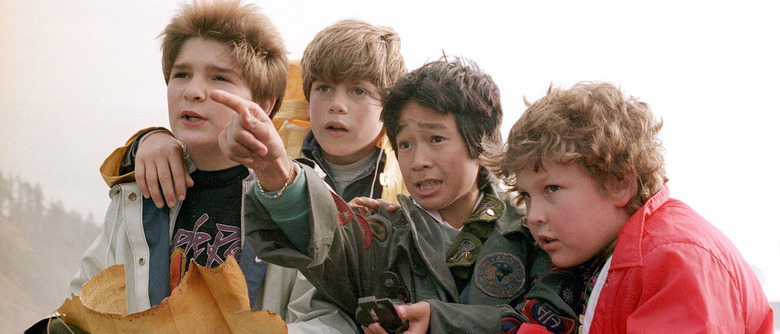 There's been talk of a potential Goonies sequel for, oh, well over a decade at this point, and in 2014 the project finally seemed to be taking a step forward when director Richard Donner officially confirmed that one was in the works. But two years later, the planned sequel doesn't seem to have made any real forward movement. And according to actor Corey Feldman, there's a very good chance it never will. See his explanation of why after the jump. 
While promoting his new album Angelic 2 the Core, Feldman sat down for a talk with MovieWeb. During the interview, he revealed one realistic reason that Goonies 2 might never happen:
Richard Donner is 87 years old. And it's like, no one really wants to make it without him. He's the driving force behind it. He says it's still alive. But as we all know...When you get to that age, things slow down quite a bit. There is a big possibility that he might not want to keep driving it. So, I think without him, it doesn't happen. And every day that passes, that he doesn't do it, there is less and less chance that it is ever going to happen at all.
As of last year, producer Frank Marshall said the reason Goonies 2 hadn't happened yet was that they were still trying to get the story right. To be sure, the lack of progress isn't for lack of trying, or lack of interest. Feldman, Sean Astin, and Josh Brolin have all expressed interest in reprising their roles at one point or another. Feldman and Astin even came up with an idea for the Goonies sequel at one point, but that version of the project didn't get very far:
As I'm sure you read, Sean and I actually did create a treatment which we brought into Richard Donner, which he actually liked quite a bit. But, unfortunately, he felt it was too expensive for what they have in mind. So, that said, I'm not a mind reader. I don't know what that special magic recipe is that they are looking for. But I know that everyone's fear is, 'What are the odds of capturing magic in a bottle twice?' And it's a long shot. At the end of the day, I think if everyone was going to get involved and do it, it would have to be something that was just so magical, so awe-inspiring and breathtaking, that every person said, 'This is a home run, this is it, we've got it, this is the one.' I know if that script comes in, we'll be getting that call.
Earlier this summer, Astin teased the return of One-Eyed Willy in the sequel, but Feldman dismisses that rumor. "Unless Sean has a magic ball somewhere... one of those magic eight balls which is telling him that One-Eyed Willy is going to be starring in a new Goonies film... I have no idea what he is talking about," he said. "I think its just one of those good old fashion Hollywood rumor mills working again." Indeed, seeing as Goonies 2 doesn't even have a script yet, it doesn't sound like anyone knows anything for sure about this movie.
And for Feldman, that includes whether this movie should exist to begin with. "It could have a very bad backlash!" he pointed out. "At the end of the day, and I have said this before, the only way a Goonies sequel happens, and is forgivable to the fan base, is if it is done right."
Goonies is a great childhood classic as it is. It's hardly surprising that there's been so much sequel talk — anything not actively unpopular seems to be getting a sequel, prequel, reboot, or remake these days — but does it really need a follow-up starring a bunch of men who are now in their 40s? Are you more disappointed that a Goonies 2 will probably never happen, or relieved?