Watch A David Brent Music Video In Which Ricky Gervais Loses His Heart To A "Lady Gypsy"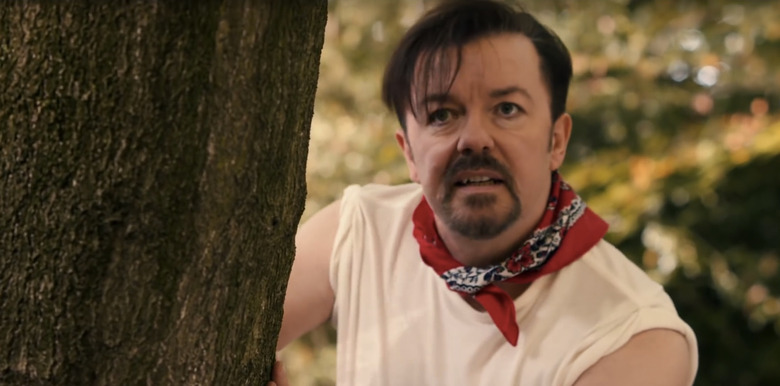 Our friends across the pond and down under will get to see Ricky Gervais back as the former Wernham Hogg Paper Company boss David Brent on the big screen in August. In a new mockumentary feature film, David Brent follows his dreams of being a rock star while working a new job as a cleaning products sales rep. David Brent: Life on the Road not only brings back flares of The Office, but also sees Brent hitting the road for a tour in his home country, complete with original music written by the inappropriate and awkward character himself.
Now you can get a taste of one of his tunes with a David Brent music video for a song called "Gyspy Lady." It's a love song as only David Brent can deliver about how he fell in love with some kind of gypsy, though he can't remember her name. Watch below.
This is certainly amusing, especially the part when Brent's character in the video has to clarify whether the gypsy is a prostitute or not. However, I can't help but compare it to the other musical mockumentary we saw earlier this year, Popstar: Never Stop Never Stopping.
In general, British comedy is much more dry and subtle than American comedy, but the music and videos in Popstar are leaps and bounds funnier than what's on display here. Don't get me wrong, I'm a fan of Ricky Gervais' comedy stylings, and this looks much better than his Netflix feature Special Correspondents, but I feel like this will fall short of the greatness of Popstar in the end. But hopefully it'll still deliver some laughs.
David Brent is now a rep selling cleaning products up and down the country. The thing is he has never really given up the dream of being a rock star, and in this documentary movie we follow his one last shot at fame. We find out what he's been up to since his days at Wernham Hogg and we follow him on the road trying to get a record deal. He puts a band together (a group of mercenary session musicians taking his money with absolutely no love for him or his dream) and ropes poor Dom (a rapper who he was meant to be managing) into coming on tour with him to give him a bit of credibility. Let down after let down, faux pas after faux pas Brent never gives up his dream... just his hard earned money and a cashed in pension to fund the whole folly. With original music by the man himself Life on The Road is like a comedy musical. It's exciting, funny, excruciating and a little sad.
David Brent: Life on the Road hits theaters in the UK, Ireland, Australia and New Zealand in August, but the rest of us in the United States will have to wait until 2017 for it to hit Netflix.