'Pete's Dragon' TV Spot: Deep In The Forest, There Dragons Will Be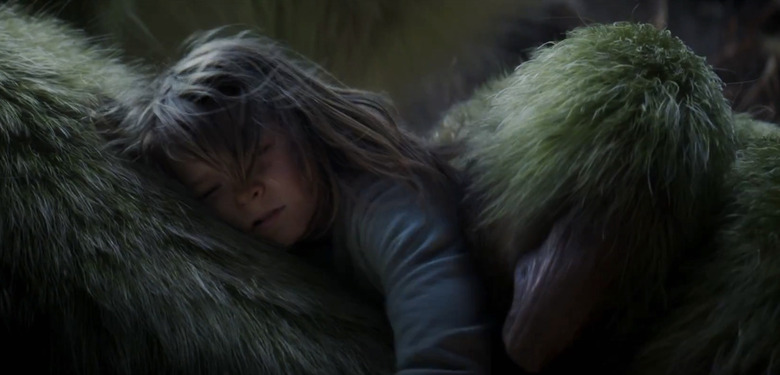 Adding to the barrage of Disney's remakes, late this summer comes a contemporary take on Pete's Dragon, the film that blended animation with live-action all the way back in 1977. This looks like a magical update of the old movie from Ain't Them Bodies Saints director with a performance from young star Oakes Fegley that feels like the kind of child actor that Steven Spielberg would have discovered. But will this movie have the same kind of heart and spirit of adventure of the director's films? A new Pete's Dragon TV spot is certainly reassuring, complete with a nice little song to guide us. Watch it below.
Here's the new Pete's Dragon TV spot from Moviefone:
In this update of the Disney movie, I wonder if the same dark background for Pete will be present. Even though Pete's Dragon is a pretty chipper musical (which likely won't be the case this time despite the song in the TV spot), the story follows an orphan on the run from his insane adopted family who mistreats him and even hits him for doing things like accidentally missing the bucket while milking a cow. Could Disney get serious by having an abused orphan at the center of the story, or will they go the route of Pete being on his own because his parents died? My guess is the latter, but you never know.
The cast of Pete's Dragon is undoubtedly one of the biggest draws as it includes Robert Redford, Karl Urban, Bryce Dallas Howard, Wes Bentley, Oona Laurence, Craig Hall and Isiah Whitlock Jr. That's certainly not who I would have expected to see in a Disney remake like this, but that's what makes it look so enticing. If you want to see more from Pete's Dragon, watch the full trailer right here.
For years, old wood carver Mr. Meacham (Robert Redford) has delighted local children with his tales of the fierce dragon that resides deep in the woods of the Pacific Northwest. To his daughter, Grace (Bryce Dallas Howard), who works as a forest ranger, these stories are little more than tall tales...until she meets Pete (Oakes Fegley). Pete is a mysterious 10-year-old with no family and no home who claims to live in the woods with a giant, green dragon named Elliott. And from Pete's descriptions, Elliott seems remarkably similar to the dragon from Mr. Meacham's stories. With the help of Natalie (Oona Laurence), an 11-year-old girl whose father Jack (Wes Bentley) owns the local lumber mill, Grace sets out to determine where Pete came from, where he belongs, and the truth about this dragon.
Pete's Dragon opens in theaters August 12th.