Zach Braff To Direct Black List Black Comedy 'Bump'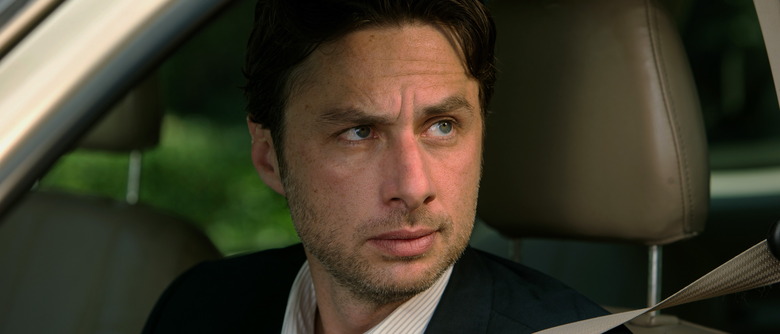 As a director, Zach Braff has proven divisive. His first film Garden State opened to a warm reception, and its Shins-heavy soundtrack was an instant hit — but its quirky hipster vibe has not aged well, and these days it's easier to find movie geeks who'll claim they've hated it all along than ones who'll proudly declare that they still love it. His second film Wish I Was Here got a lot of flack before it even started shooting, thanks to Braff's decision to launch a Kickstarter campaign — but it was still able to clear its $2 million goal in less than a week, and eventually secure a Sundance Film Festival premiere.
And like it or not, Braff isn't going anywhere. He's just been set to direct Bump, a 2015 Black List script by Ori Guendelman and Rob McClelland. However, for those who've grown tired of Braff's brand of indie dramedy, this one sounds like a pretty big change of pace. 
Deadline reports Braff is "committed" to directing Bump, which they describe as a black comedy about "the single most important night in Thomas' life, where one mistake sets into motion a series of absurd events that threaten to unravel the clichéd life he's worked so hard to build. This wild ride calls into question the balance between ambition and morality and the dubious decisions made in pursuit of the American Dream."
Or, to put it in more concrete terms (via the Black List):
After an accidental hit and run, a young lawyer's entire life unravels over the span of one night as he attempts to dispose of a corpse that turns out to be way more than an innocent victim.
Working Title's Tim Bevan and Eric Fellner are producing, and Liza Chasin is executive producing. No release date or stars have been announced yet.
Braff recently wrapped up Going in Style, a remake of the 1979 comedy caper of the same title. Braff's version stars Morgan Freeman, Michael Caine, and Alan Arkin and is due out April 7, 2017. So although Bump seems like a sharp change of pace from Garden State and Wish I Was Here, it won't be the first film to prove that Braff has aspirations beyond documenting the existential malaise of struggling actors in Los Angeles.