'Star Trek Beyond' Clip: Dr. Bones Makes A "Typically Reductive Inquiry"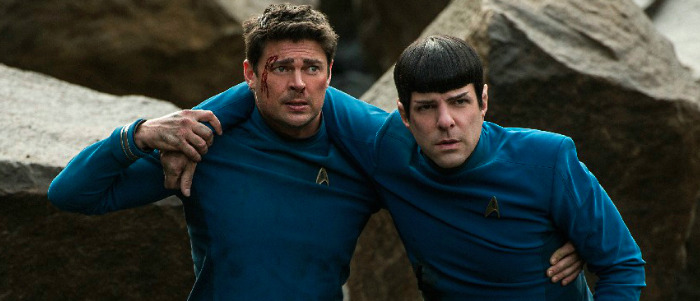 In J.J. Abrams' Star Trek films, Bones (Karl Urban) mostly interacts with Captain Kirk (Chris Pine). Now and then he'll have a tense or fun side conversation with Spock (Zachary Quinto), but in the upcoming sequel, Star Trek Beyond, the two clearly have more to do together — which is a good thing, since Quinto and Urban are consistently reliable comedic relief in these films.
The new Star Trek Beyond clip also features Uhura (Zoe Saldana). Her words with Spock may qualify as a spoiler, but if you're not particularly spoiler sensitive, then check out the latest look at director Justin Lin's film.
The other day we saw a new trailer for the Trek sequel, featuring Rihanna's new single, "Sledgehammer," which Angie correctly called the trailer's "secret weapon." It's the most exciting preview of the film yet; Rihanna's single makes Lin's space adventure appear truly grand. The trailer was unquestionably an improvement over the teaser.
This Star Trek Beyond clip isn't a preview of some big set piece, but it's a fun moment between Bones and Spock and a not-so-fun moment between Spock and Uhura.
Here's the Star Trek Beyond clip:
According to Urban, who also has a role in next month's Pete's Dragon remake, we're going to see more of Spock and Bones' relationship in the sequel (source: IGN):
I believe that their relationship really evolves, and you get to see them both kind of drop their guard and be who they really are around each other — just get a little glimpse of that, which is fantastic and rewarding, especially for long-term Star Trek fans. It's something that I believe you haven't really seen before.
As Dr. Leonard "Bones" McCoy, Urban always manages to steal a scene or two. He earns some of the biggest laughs in these movies, and we're reminded of why in this clip. How Bones is smiling when he asks Spock, "What'd you do?" is just a great little touch, like he's excited to hear about the fact Spock might've screwed up.
Here's the official synopsis for Star Trek Beyond:
"Star Trek Beyond," the highly anticipated next installment in the globally popular Star Trek franchise, created by Gene Roddenberry and reintroduced by J.J. Abrams in 2009, returns with director Justin Lin ("The Fast and the Furious" franchise) at the helm of this epic voyage of the U.S.S. Enterprise and her intrepid crew. In "Beyond," the Enterprise crew explores the furthest reaches of uncharted space, where they encounter a mysterious new enemy who puts them and everything the Federation stands for to the test.
Star Trek Beyond opens in theaters July 22nd.