'Richard Linklater: Dream Is Destiny' Trailer: The Director Reflects On His Past Work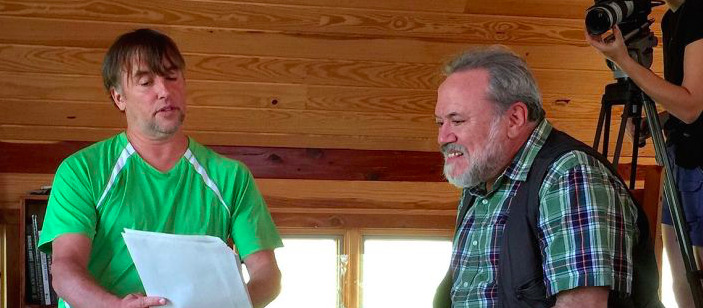 Not nearly enough people saw Richard Linklater's Everybody Wants Some!! It's another great hangout movie from Linklater, and it'll likely age well and catch on more with time. Linklater has made a few movies that didn't click with audiences right away, but like his financial hits, they've so far proven to have a staying power.
The 55-year-old, who rarely ever seems to age, has had a career driven by variety. He's always trying new things as a storyteller, even in the instance of his Bad News Bears remake, but of course, the most well-known example is his 12-year project, Boyhood. Linklater has made a series of wide-ranging and ambitious choices, and if you want to hear him explain some of those choices, then you may want to check out a tease for an upcoming documentary on the filmmaker in the Richard Linklater: Dream Is Destiny trailer.
Louis Black and Karen Bernstein directed the documentary. You see the Austin Chronicle editor and founder, Black, briefly in the trailer, interviewing Linklater for his breakout film, Slacker, a cornerstone of the '90s indie world. The doc's title is a reference to the name of Waking Life's first chapter.
Here's the Richard Linklater documentary trailer:
Louis Black and Karen Bernstein's documentary premiered at the Sundance Film Festival, where it was positively reviewed by critics. The film features behind-the-scenes footage from Linklater's films, an overview of Austin's independent scene, and some interviews with Linklater's collaborators, including Julie Delpy and Ethan Hawke. The doc focuses more on his career than his personal life, and considering what a colorful career he's had, that sounds just fine.
Here's the official synopsis:
One of the foremost American filmmakers of our time, Richard Linklater achieved cult immortality with the '90s classic Dazed and Confused, won critical respect for the sublime Before trilogy, and redefined cinematic storytelling with the groundbreaking Boyhood. But along the way, the director's unconventional working methods and fierce independence have frequently put him at odds with the industry. Through interviews with both the filmmaker and many of his closest collaborators, this revealing profile traces Linklater's life and work—from the DIY landmark Slacker to his latest comedy Everybody Wants Some!!—shedding light on how a creative visionary carved out a one-of-a-kind career unbeholden to the Hollywood machine.
Richard Linklater: Dream is Destiny opens in limited theaters and on VOD August 5th.