'Bad Moms' Trailer: Mila Kunis Declares War On Christina Applegate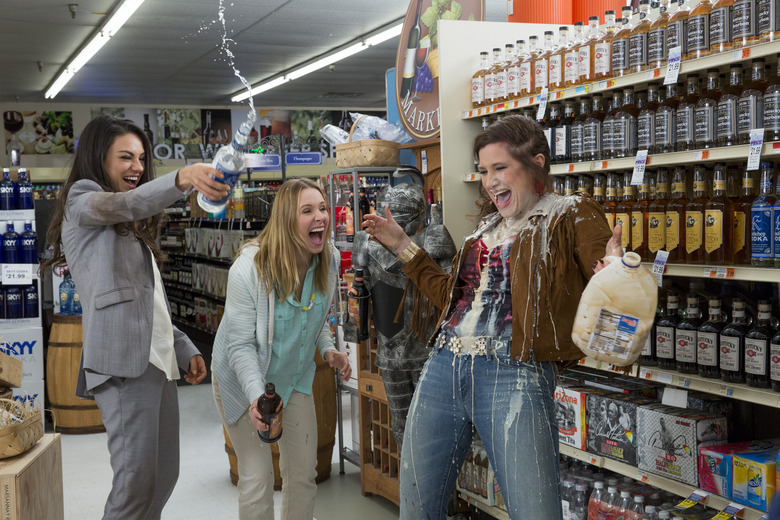 Imagine if Mean Girls' Regina George never got hit by that bus, and instead continued along the path she'd been on before she met Cady Heron. Imagine the smug, gossipy, mean mom she'd grow up to be. That's more or less the character Christina Applegate plays in Bad Moms, the new comedy from 21 & Over writer-directors Jon Lucas and Scott Moore. Together with her two besties (Jada Pinkett-Smith and Annie Mumolo), Gwendolyn rules the PTA with an iron fist.
But they aren't the "bad moms" of the title. That'd be Mila Kunis, Kristen Bell, and Kathryn Hahn, three stressed-out suburban moms. Fed up with the pressure to be perfect parents, they decide to indulge themselves for a change. When Gwendolyn stands in their way, they realize they've got to take her down. Watch the Bad Moms trailer after the jump.
That's a solid lineup of reliably funny people, and it looks a hell of a lot better than this year's other big mom-themed ensemble comedy, Garry Marshall's Mother's Day. Applegate looks like she's channeling a grown-up Regina George, and Pinkett-Smith makes for a pretty formidable foe herself. On the flip side, the endlessly versatile Hahn looks like she's enjoying letting loose, and it's fun to see Bell and Kunis co-star again after Forgetting Sarah Marshall.
It probably won't be life-changing stuff, but in a surprisingly weak summer season it could just turn out to be the light, goofy bit of entertainment we've all been waiting for. Bad Moms opens July 29, opposite Jason Bourne.
In this new comedy from the writers of The Hangover, Amy has a seemingly perfect life – a great marriage, over-achieving kids, beautiful home and a career. However she's over-worked, over-committed and exhausted to the point that she's about to snap. Fed up, she joins forces with two other over-stressed moms on a quest to liberate themselves from conventional responsibilities – going on a wild, un-mom-like binge of long overdue freedom, fun and self-indulgence – putting them on a collision course with PTA Queen Bee Gwendolyn and her clique of devoted perfect moms.