Watch Rihanna's Wild 'Star Trek Beyond' Music Video, Shot Entirely On IMAX By 'The Runaways' Director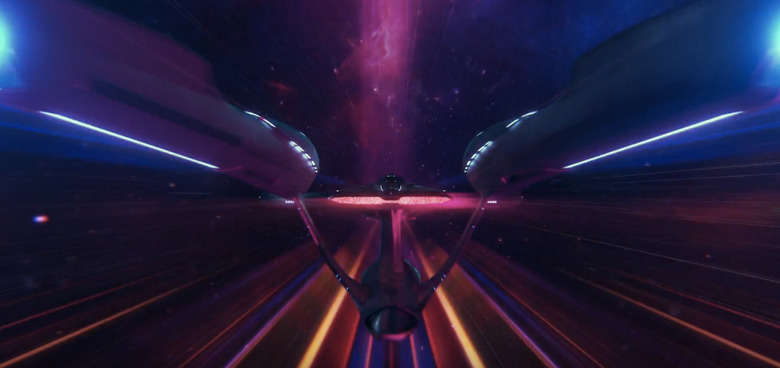 Normally we don't post music videos unless they're directed by a filmmaker whose work we've highlighted before or unless they're tied directly to the release of a new movie. Today, we have one that fulfills both, and it just so happens to have the added bonus of being shot entirely in IMAX.
Earlier this week, a new Star Trek Beyond trailer debuted featuring the new single "Sledgehammer" from Rihanna, a ballad that felt reminiscent of a classic James Bond theme song. Now that track has gotten its own music video from director Floria Sigismondi, who previously helmed the rock biopic The Runaways as well as an episode of Netflix's Daredevil series. It's a wild, trippy music video featuring Rihanna as some kind of space witch, and it has some truly stunning visuals.
Watch the Rihanna Star Trek Beyond music video after the jump.
Over at Entertainment Weekly, they dive a little deeper into the making of the music video. The magazine says this is the first music video shot entirely on IMAX cameras. However, you may remember that Adele's music video for "Hello" was shot on IMAX cameras as well. We're assuming the differentiation is that "Sledgehammer" may have been shot entirely on IMAX while "Hello" only partially shot on the large format, but we can't be sure.
Director Floria Sigismondi talked to the magazine about how much Star Trek Beyond influenced the aesthetic of the music video and what elements they borrowed:
We wanted to use some of the elements from the film. I watched the film and gravitated towards some, like the floating rocks. I thought that could help elevate my world and make it otherworldly. We used the broken moon, we used the swarm ships, and we used [Starbase] Yorktown—that's the big floating thing that looks like a planet but is actually a base where people live.
They clearly borrowed the color scheme and even the bright light ray aesthetic from these two Star Trek posters:
Of course, as you can see, that new poster was adapted from the original Star Trek: The Motion Picture poster. There are several degrees of inspiration here, but it all comes from within the Star Trek universe. But Sigismondi also wanted the music video to have a story all its own, which is where Rihanna's character comes into play. The director explains the concept at the core of the video:
"We tried to incorporate those elements but create a standalone piece where Rihanna is a mystical being on this otherworldly planet. She has her own character not rooted in the film. She's harnessing her power to manipulate the elements. She is able to conjure light and stars and ultimately transform into the universe itself, becoming the stars and the planets. I love the idea of transcendence. When you listen to the lyrics of the song, she's this sledgehammer breaking things down. It's about pushing through your boundaries, and Star Trek is also about exploring the unknown, so I drew from that. I wanted to leave the audience with the feeling of an expansive universe, one we all live in yet know so little about. I wanted to evoke that feeling on a really large scale."
These kind of music videos are always my favorite to see come to life. It's wonderful when there's a filmmaker behind the camera with a short story to tell rather than just editing some lip syncing between footage from the film it's promoting. It makes me hope there will be some kind of cool credits sequence with this song, but we'll have to wait and see what we get when Star Trek Beyond arrives on July 22. It will also be premiering at Comic-Con, and hopefully we'll have reactions straight from the convention.