'Viral' Trailer: 'Catfish' Directors Reunite With 'Paranormal Activity' Producer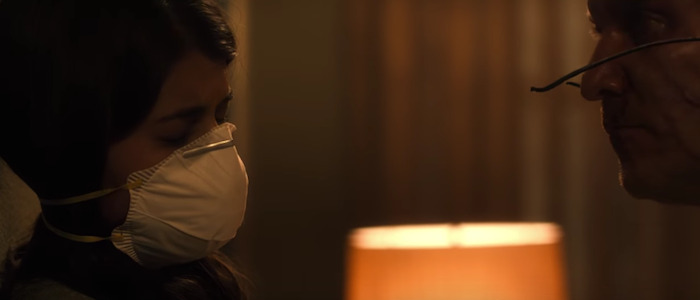 So, what've you got planned for the three-day weekend? Summer Friday happy hour, maybe? A Fourth of July cookout? Maybe a Sunday night out hitting the clubs, since you can sleep in Monday? Well, you might want to reorganize your calendar after seeing the first Viral trailer. Because as it turns out, socializing is a really great way to catch horrifying infectious diseases.
Viral comes from Ariel Schulman and Henry Joost — the directors behind Catfish, Paranormal Activity 3 and 4, and the upcoming Nerve — and powerhouse producer Jason Blum. A strange parasitic virus begins to infect a small suburban town, but two teenage sisters (played by Sofia Black-D'Elia and Analeigh Tipton) decide to ignore the warnings and party with their friends anyway, with predictably awful results. Watch the Viral trailer below.
The "mysterious pandemic" concept is one we've seen many times before, but it can still be really effective when done well. The idea taps into all of our worst fears about disease and contagion (and should be especially chilling for the germaphobes among us), and automatically creates tons of interpersonal tension as characters are forced to make tough decisions when their loved ones fall prey to the virus.
It seems a little silly how easily the characters in Viral ignore the dire warnings, particularly seeing as one of their friends has already fallen to "worm flu." And the trailer seems like it might be giving away a little too much of the story. But on the whole it looks like a fun summer thriller — just the kind of thing you might want to watch in a dark room the morning after you've decided going out is still worth all the risks, and are consequently trying to get over a terrible hangover.
Viral hits theaters and digital HD on July 29 and then VOD and DVD on August 2.
Teenaged sisters Emma (Sofia Black-D'Elia) and Stacey (Analeigh Tipton) live a normal life, until their small suburban neighborhood is stricken with a mysterious parasitic virus. As the disease rapidly spreads throughout the town, the two band together to barricade themselves from infection. But it may already be too late – when the virus enters their home, the sisters are faced with an impossible choice: protect each other, or survive the virus.