'Lego Star Wars: The Force Awakens' Features J.J. Abrams And Kathleen Kennedy As Playable Characters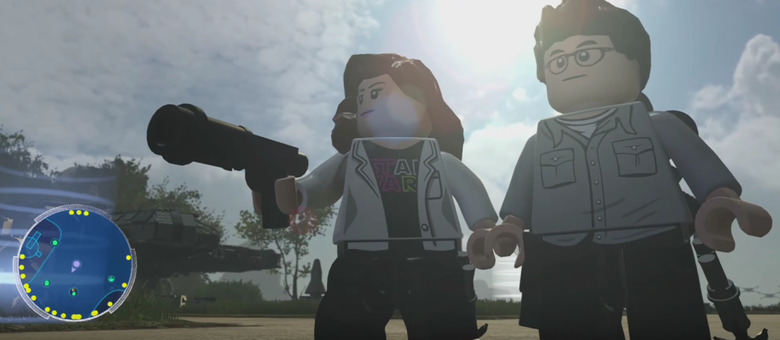 Kathleen Kennedy and J.J. Abrams may not actually appear onscreen in Star Wars: The Force Awakens, but they're every bit as essential to the story as Rey or Finn or Kylo Ren — arguably even more so, since they're the architects who designed it in the first place. So why should they have to sit out Lego Star Wars: The Force Awakens while Lego Rey and Lego Finn and Lego Kylo Ren have all the fun?
Well, now they don't. Turns out Abrams and Kennedy are playable characters in the video game, which just hit shelves this week. Click through to see a video of Lego J.J. Abrams and Lego Kathleen Kennedy in action in Lego Star Wars: The Force Awakens. 
Kotaku has the very adorable video of Lego J.J. Abrams and Lego Kathleen Kennedy. Both characters can accept Resistance mission and command troops. And both of them are pretty handy with a blaster.
Leave it to Lego J.J. Abrams to carry his camera with him everywhere you goes. You never know when inspiration could strike, and you might have to bring your mission to a screeching halt so you can direct the shit out of an intergalactic battle. The lens flare is a nice touch, too. Lego Kathleen Kennedy, meanwhile, seems to be stealing style tips from her real-life counterpart. The white blazer and colorful Star Wars logo tee are a perfect plastic replica of Kennedy's outfit from the Force Awakens panel at last year's Star Wars Celebration.
Kennedy and Abrams aren't the first filmmakers to get Lego-fied for games inspired by the movies they've made. Steven Spielberg and Colin Trevorrow are unlockable characters in Lego Jurassic World, and Kevin Smith is an unlockable character in Lego Batman 3: Beyond Gotham, along with Geoff Johns. Along the same lines, Stan Lee has appeared in multiple Lego Marvel games.
There's no sign of Star Wars' original creator George Lucas, but you don't need to be too sad for him. Lego George Lucas has appeared in the TV special Lego Star Wars: The Padawan Menace and the short film Lego Indiana Jones and the Raiders of the Lost Brick.