'Why Him?' Trailer: Bryan Cranston Hates James Franco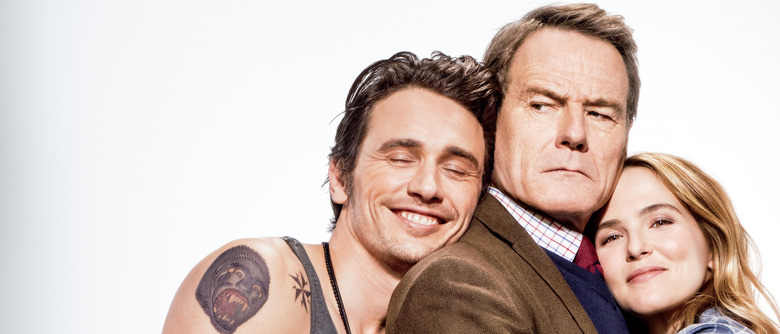 Fresh off of producing one movie about a parent's worst nightmare, James Franco is starring in another. Why Him? stars Bryan Cranston as a straight-laced suburban dad who goes to visit his daughter (Zoey Deutch) at Stanford, and his horrified to discover she's dating a internet billionaire with tons of ill-advised tattoos and no filter whatsoever. Franco, of course, plays the obnoxious boyfriend. John Hamburg (I Love You, Man) directed. Watch the first Why Him? trailer after the jump. 
First up, here's the red-band version of the Why Him? trailer. Red-band means NSFW (mostly for language).
And here's a green-band Why Him? trailer with some different footage.
"Dad hates daughter's boyfriend" isn't the most original premise in the world, but this cast might have what it takes to make a familiar formula sing. Franco's at his best when he's playing goofy oddballs, and Cranston is great at playing frustrated (as he did for years on Malcolm in the Middle and Breaking Bad). Add in a strong lineup of comedy talents including Megan Mullally, Keegan-Michael Key, Andrew Rannells, Casey Wilson, and Adam DeVine, and you've got all the makings of a funny, if slight, diversion for the holiday season.
Why Him? opens December 25. It's the perfect movie to bring your parents to, if they disapprove of the person you're currently dating and you want to show them how much worse things could be.
Over the holidays, Ned (Bryan Cranston), an overprotective but loving dad and his family visit his daughter at Stanford, where he meets his biggest nightmare: her well-meaning but socially awkward Silicon Valley billionaire boyfriend, Laird (James Franco). The straight-laced Ned thinks Laird, who has absolutely no filter, is a wildly inappropriate match for his daughter. The one-sided rivalry-and Ned's panic level-escalate when he finds himself increasingly out of step in the glamorous high-tech hub, and learns that Laird is about to pop the question.