'Hell Or High Water' Trailer: Chris Pine & Ben Foster Rob Banks But Mustaches Steal The Show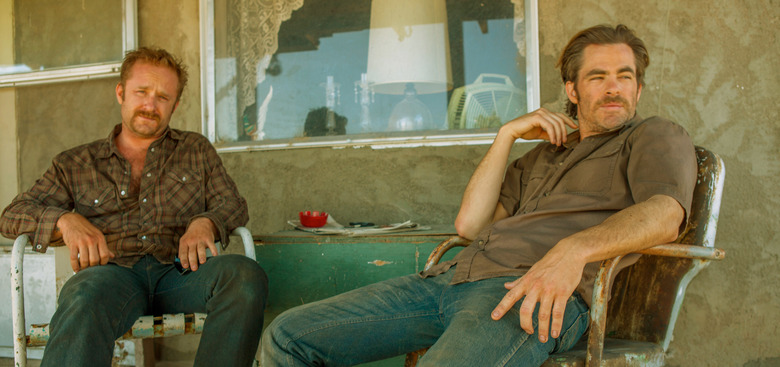 Plenty of banks have been robbed in the Western genre, but there aren't many contemporary thrillers that use the premise nowadays. The last captivating modern Western that centered on a robbery was probably Ain't Them Bodies Saints, and even then it was only a small part of a larger character story. But Hell or High Water has Chris Pine and Ben Foster stopping at nothing to get what they think is rightfully owed to them by the banks. However, Jeff Bridges isn't letting them get away with it.
Watch the new Hell or High Water trailer after the jump.
There's not a hell of a lot on display here that wasn't in the first trailer for the movie, but it does feature quite a bit of critical praise to pique your curiosity. However, for some reason not a single one of the pull quotes from the reviews for Hell or High Water compliment the outstanding mustaches on display here.
If this movie was called Mustache Wars, I guarantee you it would increase attendance by at least 10%. We're not talking about the stupid waxy mustaches that you see paired with bowler hats and fedoras down at the organic wi-fi farmer's market or whatever the hell hipsters are into this month. These are homegrown, Western mustaches that make speaking with a Southern accent come automatically.
CBS Films liked the above assessment of the movie so much they used it to market the movie online:
because @Ethan_Anderton demanded it. pic.twitter.com/vSrTDGtgui

— CBS Films (@CBSFilms) June 30, 2016


Hell or High Water comes from Perfect Sense director David Mackenzie and Sicario writer Taylor Sheridan, so it should be something worth seeing later this summer.
A story about the collision of the Old and New West, two brothers—Toby (Chris Pine), a straight-living, divorced father trying to make a better life for his son; and Tanner (Ben Foster), a short-tempered ex-con with a loose trigger finger—come together to rob branch after branch of the bank that is foreclosing on their family land. The hold-ups are part of a last-ditch scheme to take back a future that powerful forces beyond their control have stolen from under their feet. Vengeance seems to be theirs until they find themselves in the crosshairs of a relentless, foul-mouthed Texas Ranger (Jeff Bridges) looking for one last triumph on the eve of his retirement. As the brothers plot a final bank heist to complete their plan, a showdown looms at the crossroads where the last honest law man and a pair of brothers with nothing to live for except family collide.
Hell Or High Water opens in theaters August 12th.