Praise Be: AMC's 'Preacher' Renewed For Season 2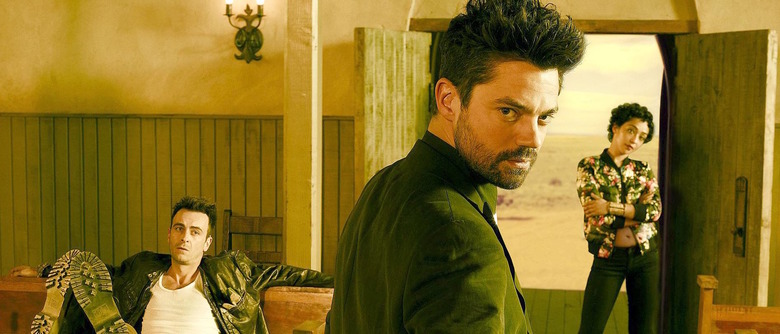 Jesse Custer may not be a very good preacher, or even a very good person, but for the past several weeks he's been one hell of a reason to look forward to Sundays. And AMC wants to make sure you keep coming back to that little church in Annville. As Preacher passes the halfway mark of its first season, AMC has renewed it for an expanded second season, to consist of 13 episodes. 
AMC announced the news via press release today. The second season of Preacher will air at an as-yet-undetermined time in 2017; my hope is that AMC will avoid scheduling it opposite Game of Thrones next year. If you haven't had a chance to catch up on the first season yet, that's all right — AMC is celebrating the season 2 renewal with a marathon of the first five episodes beginning this Thursday, June 30, at 9 PM on AMC. Or if even that's too much to handle, you can check out a quick two-minute recap below:
The news is welcome but not surprising. Preacher has been off to a solid start, and according to the network is the #2 new series of the year among adults 18-49 and 25-54. Sam Catlin (who serves as showrunner) created the supernatural series with Seth Rogen and Evan Goldberg, based on the comic books by Garth Ennis and Steve Dillon. The first episode premiered at SXSW to great hype earlier this spring before making its way to television in May.
Preacher's first season kicked off with a bang, throwing audiences headfirst into a topsy-turvy universe of immortal agents, Irish vampires, heaven-sent powers, and exploding religious figures. Five episodes in, it's started to settle into a groove without losing any of its weirdness. Sometimes it threatens to careen off the rails entirely, but fortunately Preacher has three not-so-secret weapons in its intensely charismatic leads: Dominic Cooper, Joseph Gilgun, and most especially Ruth Negga. It still feels like the story is just getting started, so it's nice to hear there'll be more where that came from.
Here's a quick preview for the next episode, airing Sunday, July 3:
"Preacher" centers around a Texas preacher named Jesse Custer (Dominic Cooper) who is inhabited by a mysterious entity called Genesis that gives him the power to make people do whatever he commands. Once this power attracts the attention of two mysterious angels, Fiore (Tom Brooke) and DeBlanc (Anatol Yusef), Jesse, his badass ex-girlfriend Tulip (Ruth Negga), and an Irish vampire named Cassidy (Joseph Gilgun) are thrust into a crazy world populated by a cast of characters from Heaven, Hell and everywhere in between. The series also stars Lucy Griffiths, W. Earl Brown, Derek Wilson and Ian Colletti.