'Bleed For This' Trailer: Miles Teller Makes One Of The Greatest Comebacks In Boxing History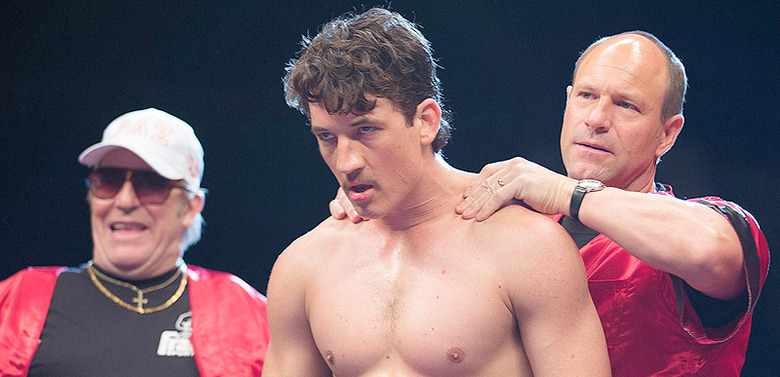 There are plenty of sports dramas about boxers fighting against all odds to become champions of the world. But the true story of Vinny Pazienza, better known as "The Pazmanian Devil," is one of the most harrowing you'll ever hear.
Vinny Pazienza had a promising boxing career after winning the light middleweight title, but then a car accident left him with a broken neck and the possibility of never being able to walk again. Bleed for This tells the story of Pazienza's comeback, as the boxer (played by Whiplash star Miles Teller) defied caution from his doctors, friends and family to get back to full health, just so he could get pummeled in the boxing ring again.
Watch the Bleed for This trailer after the jump.
Here's the trailer which debuted over at Sports Illustrated:
It took just 13 months for Pazienza to return to the ring after his life-changing accident, which created a fight in him that couldn't be destroyed. Even after being knocked to the ring floor three times by his champion opponent, he stood back up and raised his fists to keep the fight going. This story is more than a troubled boxer trying to win to prove his right to be in the ring, and it's all true.
Miles Teller definitely got toned up to play the boxer, and this looks like it could be an opportunity for the young actor to get some awards attention. Open Road Films is certainly hoping to be in the running with a fall release date right in the heart of awards season. Even though we've seen countless movies like this before, it's the kind of story that usually gets the Academy's attention.
The rest of the cast includes Katey Sagal, Ciarán Hinds, Aaron Eckhart, Ted Levine, Kimberly Howe and Amanda Clayton, all under the direction of Ben Younger (Prime, Boiler Room), who also wrote the screenplay himself.
In Bleed for This, Miles Teller stars as Pazienza in one of sport's greatest comeback stories: the true-life tale of how the Rhode Island brawler tragically lost almost everything just as he reached the pinnacle of his profession and how he defied medical science and common sense to return to the ring and win another championship belt. Aaron Eckhart costars as renowned boxing trainer Kevin Rooney, and Katey Sagal and Ciaran Hinds play Paz's understandably concerned parents.
Bleed for This starts hitting theaters on November 4.