Watch A Walk-Through Of 'The Walking Dead' Attraction At Universal Studios Hollywood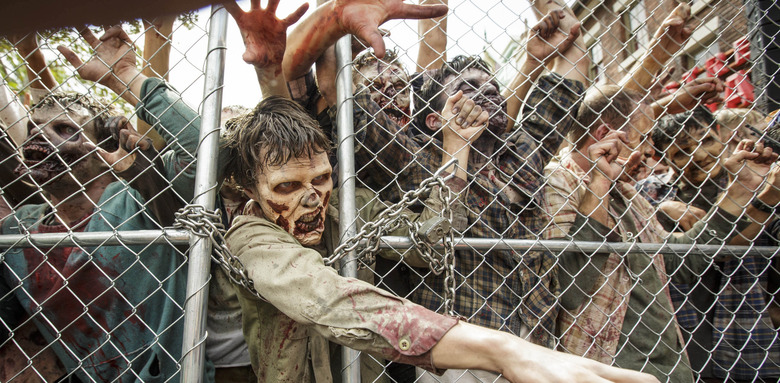 The Walking Dead universe is a pretty grim place. When characters aren't outrunnning hungry hordes of the undead, they're trying to outmaneuver living people who might be even more vicious and violent. If they manage to survive all that, they might find they've lost their own souls in the process — a lifetime of threats and heartbreaking decisions will do that to a person. No sane person would choose to live in a world that brutal.
But visit for a few minutes at a time? That, people might go for. Indeed, plenty of people already have — the Walking Dead maze has proven immensely popular during Universal Studios' Halloween Horror Nights. So the theme park is getting ready to ignore those "Don't Open, Dead Inside" warnings and fling the doors open year-round. Now you can check out a full video walkthrough of the permanent attraction, days before it officially opens to the public on Monday, July 4.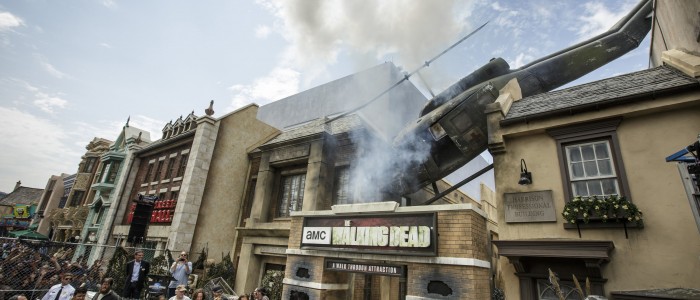 Universal Studios Hollywood celebrated the opening of the Walking Dead attraction this week, with The Walking Dead executive producer Greg Nicotero, stars Kyla Kennedy, Ross Marquand, Brighton Sharbino, Michael Traynor, and Scott Wilson, and superfan Yvette Nicole Brown all attending the festivities. Over 100 "walkers" were present, adding some menace to the proceedings. The walkthrough attraction is a "newly enhanced" version of the Halloween Horror Nights Walking Dead maze. Fans will no longer have to wait for the fall season to enjoy the experience — they'll be able to stop by the new attraction any time of the year.
The park worked closely with the show's creative team including Nicotero and KNB Efx to ensure accuracy in designing the set and costumes, replicating props from the show, and creating sophisticated animatronics. All of it is housed inside a brand-new, custom-built structure that's been painted to look like it's been beaten worn down by zombies, desperate people, and the ravages of time. If you've ever wondered what it'd be like to really live in the Walking Dead universe, this "uncompromised realistic environment" is as close as you're ever likely to get. And yes, that means things are going to get intense — Universal Studios discourages guests under 13 from entering.
But why take our word for it, or Universal Studios' for that matter? Watch video footage from the new Walking Dead attraction below via Inside the Magic and Theme Park Insider.