Ride In The New Ghostbusters Ecto-1 Thanks To Lyft's Promotion This Weekend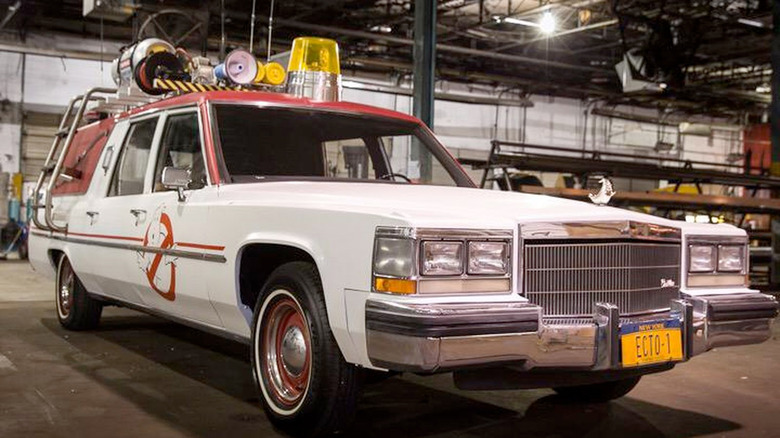 If you're going to be traveling around New York City, San Francisco, Los Angeles, Boston, and Washington D.C. this weekend, maybe you want to spice up your rides around those cities by taking a cruise in the new Ecto-1 from this summer's Ghostbusters reboot. Lyft is making that happen for two days this holiday weekend.
Get the details on how to take advantage of the Ghostbusters Lyft promotion after the jump.
On Friday, July 1 and Saturday, July 2, from 10am-8pm local time, all you have to do is switch your Lyft mobile app into "Ghost Mode" to request a ride in the new Ecto-1. This promotion not only has replicas of  the Ecto-1 vehicles that will drive you around, but they'll also have two of the cars used during filming picking people up as well. Though there's no word on which city the screen-used vehicles will be in.
In addition to cruising around in the new hearse turned paranormal exterminator transport, passengers will be able to take home some swag from giveaways on their ride. That includes Ecto Cooler and Twinkies that have key lime slime in them. Passengers will also be entered to win two tickets each to the Ghostbusters World Premiere in Los Angeles on July 9th.
With the standard publicity fluff, Ethan Eyler, Innovation Brand Manager at Lyft, offered up this:
We're thrilled to see such a classic franchise return to theaters with an all-new cast and characters, and are equally as excited to team up with Sony Pictures to bring the movie to the streets. Lyft loves to surprise and delight passengers with fun, memorable in-car experiences. Following the success of Back to the Future Mode, Zombie Mode, and Prank Mode, we expect this to be the best yet.
Even though it's purely to promote the movie, this is still a very cool opportunity. Surely some fans would rather take a ride in the Ecto-1 from the original Ghostbsuters, but those vehicles are a little harder to come by and probably better left untouched by passengers. Here's a terrible video for the Ghostbusters Lyft promotion too:
There's probably some other cool Ghostbusters promotions coming up soon, so stay tuned. There's probably even some stuff coming for those who aren't excited for the reboot and just want to celebrate the original.
Ghostbusters makes its long-awaited return, rebooted with a cast of hilarious new characters. Thirty years after the beloved original franchise took the world by storm, director Paul Feig brings his fresh take to the supernatural comedy, joined by some of the funniest actors working today – Melissa McCarthy, Kristen Wiig, Kate McKinnon, Leslie Jones, and Chris Hemsworth. This summer, they're here to save the world! The film is produced by Ivan Reitman and Amy Pascal, and written by Katie Dippold & Paul Feig, based on the 1984 film "Ghostbusters," written by Dan Aykroyd and Harold Ramis and directed by Ivan Reitman.
Ghostbusters arrives July 15.