VOTD: Steven Spielberg Tours Universal Studios For A Trip Down Memory Lane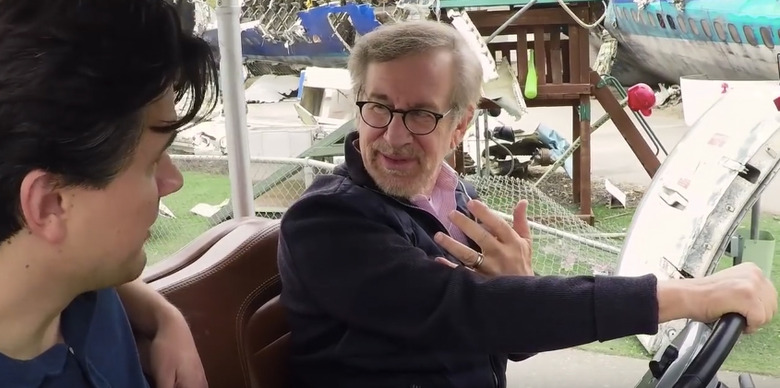 From Amblin Entertainment to DreamWorks, director and producer Steven Spielberg has made plenty of motion picture history on the backlot of Universal Studios. Both of his production companies have had their offices located on the same studio property where iconic films like Back to the Future were shot, the time traveling franchise that Spielberg also famously produced.
Now Spielberg takes a trip down memory lane and has a candid conversation about his time working on the Universal Studios backlot as he drives around on a golf cart with Anthony Breznican from Entertainment Weekly. And yes, they drive straight through the set that was once Hill Valley's town square. Watch as Steven Spielberg tours Universal Studios after the jump.
Here's the video of Steven Spielberg touring the lot, originally from Entertainment Weekly:
If you're a Spielberg fan, you've undoubtedly heard the story about how he sneaked onto the Universal lot when he was just 16 years old. He didn't exactly break in from the beginning since he had a three-day pass. But after those three days, he just kept showing up, and the security guard was familiar with him enough after three days that he didn't question his arrival for the rest of the summer. And the rest is history. These are the kind of stories that inspire young filmmakers to follow their dreams.
While driving around the Universal lot, Spielberg reminisces about his time spent on the lot, including getting kicked off an Alfred Hitchcock movie set when he was a teenager. One of the more heartbreaking stories includes Spielberg learning that the original Orca boat from Jaws had been destroyed without his knowledge. That's just awful. Watch the whole video above, and you won't be disappointed.