'Avatar' Is Getting A Mobile Game Ahead Of The Sequels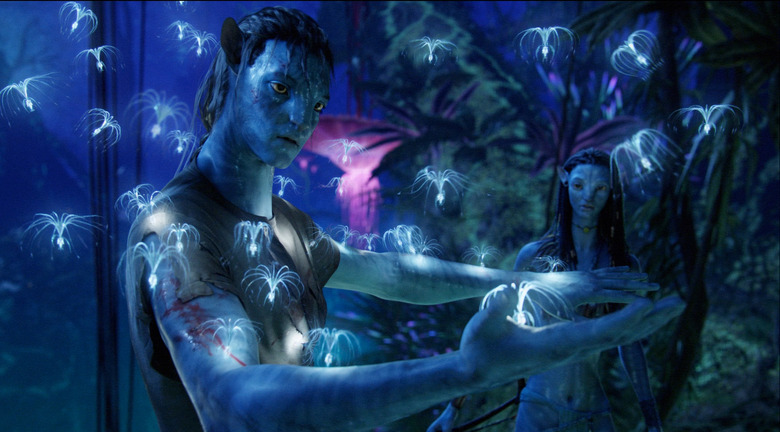 Avatar made an enormous impression when it opened in 2009, smashing box office records and earning fawning praise for its then-cutting-edge visuals and eye-popping world design. 20th Century Fox quickly announced plans to release Avatar 2 in 2014... but so far, all that's really come of the project is story after story about release date delays. As of now, Avatar 2 is scheduled to finally open in 2018. Maybe. If they're lucky.
So in the meantime, 20th Century Fox has found other ways to bring audiences back to Pandora, and therefore keep that sweet franchise money rolling in. We've talked at length about the Avatar land currently under construction at Walt Disney World, and shown you photos from the Cirque du Soleil show. But if you don't feel like shelling out for those, you'll soon have another, more accessible option. Avatar is getting turned into a massively multiplayer mobile strategy game from Kabam. 
Variety reports the Avatar video game will feature characters and settings from the films, updating and evolving as the sequels open one by one. No exact release date has been announced, but the Avatar video game is expected to debut ahead of Avatar 2's planned opening in 2018. Currently, 20th Century Fox also has Avatar 3, 4, and 5 penciled in for 2020, 2022, and 2023.
Kabam, which has made mobile games based on Avengers: Age of Ultron, Fast & Furious, The Hunger Games, and The Hobbit, expects the Avatar video game will be its biggest release ever. "We develop games that people return to and play for years, and the 'Avatar' game will deliver new and unexpected thrills to gamers for the foreseeable future," Kabam COO Kent Wakeford said. "James Cameron and the Avatar franchise are synonymous with groundbreaking technology and pushing the envelope," gushed COO Kent Wakeford in a statement. "We plan to live up to those standards by creating the best AAA massively multiplayer mobile game possible for the franchise."
Avatar producer Jon Landau chimed in, "The world of Pandora is massive, far beyond what we are able to include in our feature films, and we think fans will be excited by the level of additional depth and detail that they will be able to experience in this game." What he doesn't mention is that the world of Pandora is especially difficult to explore further when James Cameron can't meet any of his deadlines. I am sure that those who've been waiting eagerly for Avatar 2 will indeed be excited to discover they'll be able to see more of Pandora in a different way.
Joking aside, Avatar seems like a good film to get the video game treatment. The characters and storyline of the first film were pretty standard stuff, but the real appeal of Avatar lay in the world of Pandora. Cameron and his team poured attention into every tiny detail of that universe, and it shows — and now you'll have the chance to explore that incredible environment even more deeply. A game seems like a great way to keep the storyline going for a sequel that never seems to get any closer (and it's not even the first such game we've heard about today).
Would you play an Avatar video game?