'Keanu' Director Peter Atencio Hates The Film's Kitten-Centric Marketing
We may receive a commission on purchases made from links.
At the end of April, the first feature comedy led by Keegan-Michael Key and Jordan Peele hit theaters. Unfortunately, it went by the wayside in its second week of release when Captain America: Civil War stormed into theaters and took all the glory. The film only pulled in $20 million on a $15 million budget here in the United States, which isn't a failure exactly, but it's not much of a success. Now director Peter Atencio has placed the blame for the film's unimpressive reception on the film's marketing.
In a series of posts on Twitter that have since been deleted, the filmmaker revealed his dissatisfaction with the film's marketing focusing on the adorable title cat instead of accurately representing the R-rated comedy within the movie. However, he doesn't only point fingers elsewhere, because he considers the film itself a failure of his own doing.
Read what Peter Atencio had to say about the Keanu marketing campaign after the jump.
A Reddit user spotted Atencio's updates on Twitter before they were taken down. Here's his stream of complaints: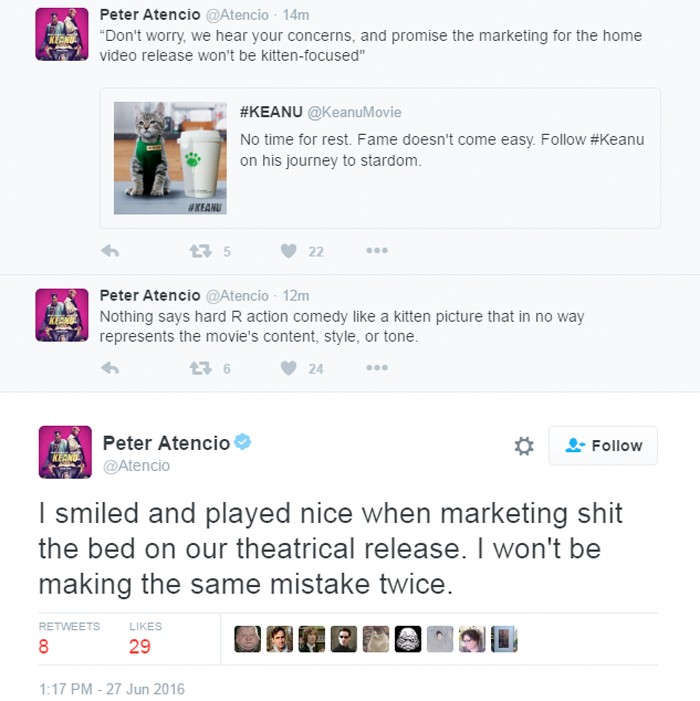 As you can see, this all started because he noticed that the marketing for the film's home video release (coming on August 2nd) is still focusing on the kitten instead of pushing the R-rated comedy of Key and Peele's first feature film as a duo. While there's no doubt that there was a big chunk of marketing that focused on the cat, I don't entirely agree that the film was misrepresented in trailers and TV spots. After all, there was a red band trailer that laid everything out pretty clear, but that probably wasn't the most abundantly seen piece of promotion.
There's a chance that seeing more of the cat and not enough of Key an Peele as a couple of suburban dudes trying to act like a couple of feared criminals was enough to create a misconception among general audiences. But even so, it's not as if the movie didn't have shortcomings of its own. Keanu may have a 77% on Rotten Tomatoes, but I found the film to be repetitive, almost like a Saturday Night Live sketch that goes on for far too long. It has some big laughs for sure, but when I followed up the movie with an advanced screening of Popstar, it just solidified that I wasn't anywhere near as impressed with the comedy of Keanu.
Director Peter Atencio also knows that his movie has some problems as well. Despite deleting his tweets about the film's marketing, he later posted about the quality of the film and the lessons he learned after directing his first movie:
Keanu was a lot of lessons learned the hard way, and in many ways I consider it a failure, but it left me eager to make another movie. Don't get me wrong, I love many things about the movie & am proud of it, but it certainly changed me as a filmmaker. Eager for the next one.
Surely any director can say that about their first feature film, so it's nothing to be shamed of. After all, even if I didn't come away from Keanu loving it, there was still plenty to like. That scene with Anna Faris was masterfully done with a great comedic reveal, and Atencio still has great visual style that is refreshing in the world of comedy. So we should just look forward to seeing how he takes all these lessons and applies them to the making of his second film.