Sure, Daniel Radcliffe Could Return As Harry Potter In The Distant Future, Are You Happy Now?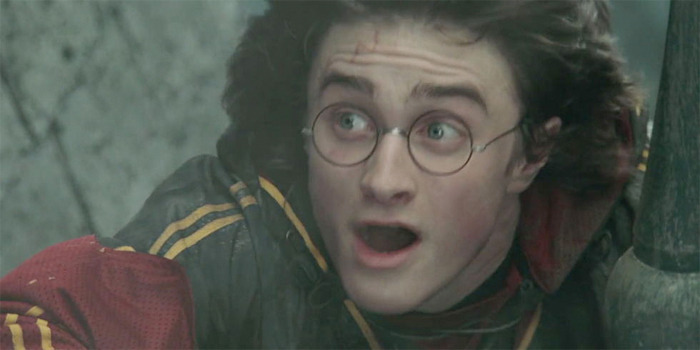 We may receive a commission on purchases made from links.
Even if Daniel Radcliffe killed a man in cold blood, he would still be most famous for playing Harry Potter in the eight-film franchise that adapted J.K Rowling's best-selling book series. I can't even imagine how many times Radcliffe has been asked if he would ever return to the wizarding world on the big screen, and since he's making the rounds to promote Swiss Army Man (which is totally worth seeing), that means that same question has popped up again. However, even though he confirmed yet again that he won't reprise the role anytime soon, he did offer some hope for the future.
In an interview at Radio Times (via Yahoo UK), the question was posed whether Daniel Radcliffe would be up for playing Harry Potter again. Radcliffe was probably kind enough not to roll his eyes, and then he offered up this answer which should keep fans at bay for a little while:
It would depend on the script. The circumstances would have to be pretty extraordinary. But then I am sure Harrison Ford said that with Han Solo and look what happened there! So I am saying 'no' for now, but leaving room to backtrack in the future.
That's probably the most apt comparison that Radcliffe could make. But the young British actor started his path to insane fame when he was just 11 years old, much earlier than when Ford became Han Solo in Star Wars. Harrison Ford was also notoriously grumpy whenever he was addressed with questions about Star Wars for a long time. Only in recent years did he change his tune, probably because he knew that he could finally leave it all behind with Han Solo meeting his demise.
So for now, fans can hope that there will be a chance for Daniel Radcliffe to return as a grown-up Harry Potter. But I think the safe bet is that it likely won't happen unless J.K. Rowling herself writes a story focusing on his later years. Frankly, I'd rather have her write a story detailing the first time Voldemort rose to power and the war that the Order of the Phoenix waged against him, but that's just me.
Here's hoping that Fantastic Beasts and Where to Find Them offers a satisfying enough story to give Harry Potter fans a new franchise to latch onto in the wizarding world. In the meantime, next month you'll be able to get your hands on Harry Potter and the Cursed Child starting on July 31.
Would you want to see a movie with Daniel Radcliffe as an older Harry Potter?