'Bridget Jones's Baby' Trailer: Mark Darcy Vs. McDreamy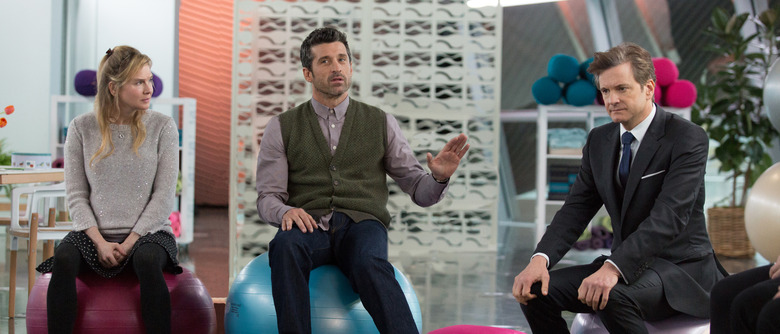 The onslaught of sequels won't end with summer. Fall brings a whole new batch, including Bridget Jones's Baby. Fifteen years after the first film, Bridget (Renée Zellweger) is a little older, a little wiser, but no less prone to getting into awkward scrapes. More specifically, she's dealing with a surprise pregnancy and two potential fathers. In one corner, there's Mark Darcy (Colin Firth), the former man of her dreams. In the other, there's Jack Qwant (Patrick Dempsey), a charming American suitor.
Our gal is left to figure out which one is the biological father of her child — as well as which one she wants to be with happily ever after. Watch the Bridget Jones's Baby trailer below.
2004's Bridget Jones: The Edge of Reason ended on a high note for Bridget, with her getting engaged to Mark Darcy. But it's not a Bridget Jones movie without some romantic intrigue, so here they are broken up again. Y'know, if it's that difficult for these two crazy kids to stay together, maybe it's not meant to be. Maybe she should choose McDreamy this time around, and become the envy of every Grey's Anatomy fan.
Emma Thompson joins the cast this time around. Ostensibly she's playing Bridget's doctor, but really she's there to serve as a one-woman Greek chorus, dropping zingers about Bridget's wacky misadventures. Meanwhile, James Callis, Shirley Henderson, and Sally Phillips return as Bridget's best friends / sounding boards, and Jim Broadbent and Gemma Jones once again play Bridget's parents. Directed by Sharon Maguire, Bridget Jones's Baby arrives September 16.
Oscar® winners Renée Zellweger and Colin Firth are joined by Patrick Dempsey for the next chapter of the world's favorite singleton in Bridget Jones's Baby. Directed by Sharon Maguire (Bridget Jones's Diary), the new film in the beloved comedy series based on creator Helen Fielding's heroine finds Bridget unexpectedly expecting.
After breaking up with Mark Darcy (Firth), Bridget Jones's (Zellweger) "happily ever after" hasn't quite gone according to plan. Fortysomething and single again, she decides to focus on her job as top news producer and surround herself with old friends and new. For once, Bridget has everything completely under control. What could possibly go wrong?
Then her love life takes a turn and Bridget meets a dashing American named Jack (Dempsey), the suitor who is everything Mr. Darcy is not. In an unlikely twist she finds herself pregnant, but with one hitch...she can only be fifty percent sure of the identity of her baby's father.