'Fantastic Beasts' Featurette Shines A Light On Ilvermorny, The American Hogwarts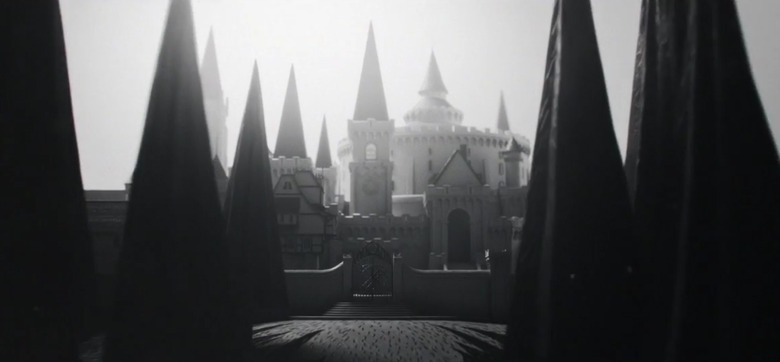 We've still got months until Fantastic Beasts and Where to Find Them expands the wizarding world of Harry Potter on the big screen. The spin-off that Warner Bros. hopes will be the start of a new franchise follows Eddie Redmayne as Newt Scamander, an expert on magical creatures who finds himself in New York City. The film will give us our first look at what the world of magic is like in North America, and that includes an American school for learning witchcraft and wizardry.
A new Fantastic Beasts featurette shines a light on Ilvermorny School of Witchcraft and Wizardry, located on the highest peak of Mount Greylock in Massachusetts. The video uses some stylish animation to tell a very brief story of how the school was founded, which includes a young Irish girl named Isolt Sayre and her aunt Gormlaith Gaunt. (That last name might ring a bell for Harry Potter fans.) Watch the video after the jump. 
This is a very truncated version of the story that J.K. Rowling released to Pottermore, providing a much more detailed background for the Ilvermorny School of Witchcraft and Wizardry. Her story includes the origins of their goofy house names and other intricate details that hardcore fans will soak up and add to their mental lexicon of terms. You can read the full story right here.
It remains to be seen just how much of the history of Ilvermorny will come into play in this fall's feature film Fantastic Beasts and Where to Find Them. But the showcase of some evil magic in this video just might provide a hint at the villain we could see in this film. That's just speculation on my part, but so far we've yet to get an idea of what the conflict in this spin-off will be. Is there an American equivalent of Voldemort we haven't met yet?
In addition to Eddie Redmayne in the lead role, the Fantastic Beasts cast also includes Colin Farrell, Dan Fogler, Carmen Ejogo, Ezra Miller, Ron Perlman, Jon Voight, Gemma Chan, Samantha Morton, and Alison Sudol. They're all under the direction of Harry Potter franchise helmer David Yates with an original script by J.K. Rowling herself.
If you're interesting in a unique viewing experience for Fantastic Beasts and Where to Find Them, you can try to get tickets to a charity screening of the film that will feature an in-depth conversation afterwards between J.K. Rowling and Eddie Redmayne. The event will take place on November 12th and Carnegie Hall in New York City. Tickets range from $25 to $1,000, but at this point, they might already be sold out or only have expensive seats left. All the money goes to support Lumos Foundation, the non-profit founded by Rowling in support of children around the world, so it's for a good cause.
For more on Fantastic Beasts, check out this recent featurette right here.
"Fantastic Beasts and Where to Find Them" opens in 1926 as Newt Scamander has just completed a global excursion to find and document an extraordinary array of magical creatures. Arriving in New York for a brief stopover, he might have come and gone without incident... were it not for a No-Maj (American for Muggle) named Jacob, a misplaced magical case, and the escape of some of Newt's fantastic beasts, which could spell trouble for both the wizarding and No-Maj worlds.
Fantastic Beasts and Where to Find Them opens November 18.