'Chasing Niagara' Trailer: The Latest Red Bull Media House Joint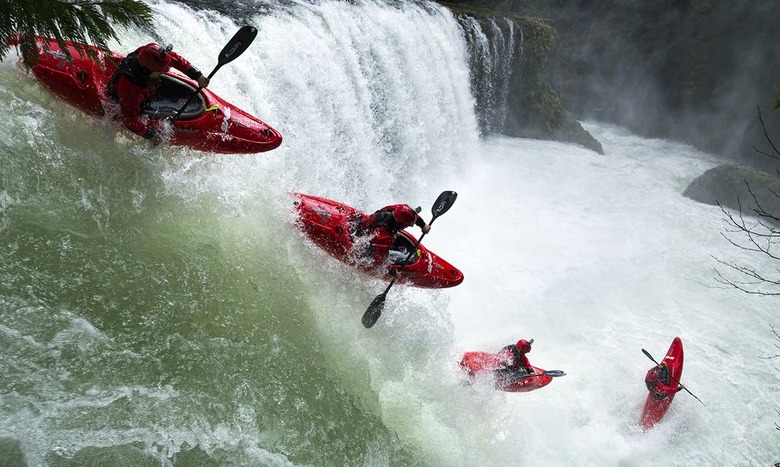 Red Bull doesn't only make energy drinks. The company also makes films, and mostly the kind of movies you'd expect Red Bull to make. Red Bull Media House will release their latest picture, Chasing Niagara, this summer. The documentary follows Rafael Ortiz as he plans to (illegally) kayak Niagara Falls.
Below, watch the Chasing Niagara trailer.
Ortiz spent three years of his life training to kayak Niagara Falls. The last attempt made in a kayak was by Jesse Sharp. In 1990, Sharp went over the Falls and was never seen again. Four years later, Robert Overacker tried to go over the Falls in a jet ski. He, too, perished in the attempt. Between 1901 and 1995, only 15 people have attempted to go over the 167-foot fall.
Whether Ortiz makes the jump is a part of what drives Chasing Niagara. Joining Ortiz for his journey are fellow kayakers Evan Garcia, Tyler Bradt, and director Rush Sturges.
Here's the Chasing Niagara trailer (via The Film Stage):
Ortiz, of course, did not make the fall. His takeaway from the experience — "some dreams are just meant to be dreams" — provides a different perspective compared to what we expect from these sort of stories.
Here was Ortiz's response to not kayaking Niagara Falls:
Not often it hurts so much to walk away from a dream.
I've been dreaming about running Niagara Falls for the past three years of my life. Every single day since I saw that line; I've been haunted by it, it's been both a dream and a nightmare.
Every piece lined up and ready to launch, today [Sunday] I walked to the drop like I've done with many waterfalls in the past, looking for that last positive feeling. It was not there. The marginal landing zone that somehow has caught barrels and made survive a few suicide attempts, couldn't give me confidence to sit in my boat and pull off the line.
Some drops are just meant to haunt you for the rest of your life. I heard once, "sometimes it takes more courage to walk away from a drop than to run it.
Some dreams are just meant to be dreams.
Red Bull Media has mostly released documentaries revolving around extreme sports, but perhaps the most unusual project of theirs is Among Wolves, a film based on a true story about a 12-year-old who grows up to become the leader of a pack of wolves. That's not exactly the most obvious movie from Red Bull Media, but it's one of the many available on their site.
Chasing Niagara opens in theaters and On Demand this July.