'Dungeons & Dragons' Picks Up Ansel Elgort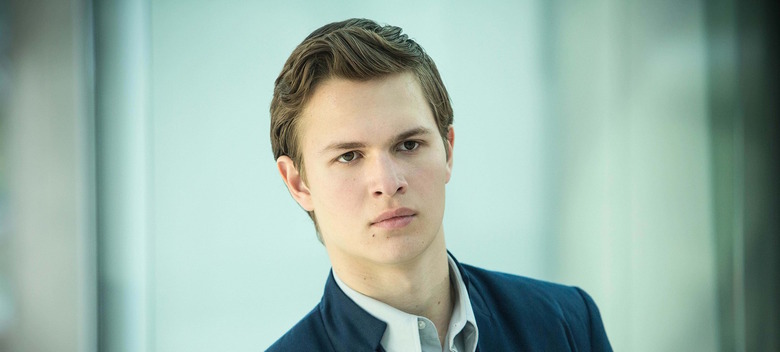 Ansel Elgort is joining Warner Bros.' Dungeons & Dragons campaign. He's looking to star in the studio's long-simmering adaptation of the classic roleplaying game, which recently picked up director Rob Letterman. David Leslie Johnson (The Conjuring 2) wrote the script. 
According to Deadline, Elgort is in early negotiations for the project. The story is described as "a fantasy adventure centering on a warrior and his band of mystical creatures as they embark on a dangerous journey to find a mythical treasure." There's no word on whom Elgort is playing, but the obvious guess is he'll be the warrior (and that that warrior will be a standard-issue human). Naturally, Warner Bros. is hoping for sequels, so if everything works out for Elgort he could have his own massive blockbuster franchise.
Elgort made his film debut in 2013's Carrie before cementing his status as a YA heartthrob with the one-two punch of Divergent and The Fault in Our Stars. He recently wrapped Edgar Wright's Baby Driver and will soon be seen in November Criminals and Billionaire Boys Club.
While Elgort is the first actor linked to the role, it probably won't be long before Vin Diesel comes sniffing around. His love for Dungeons & Dragons is well documented, and he's even been approached about the project before. As of last year, he revealed he'd still be open to the idea under the right circumstances. "It would have to be very sacred," he said. "And that's how you get me." The filmmakers would be foolish not to court Diesel, seeing as he'd give the project an instant boost in credibility and star power. But that's just speculation for now.
Dungeons & Dragons was previously adapted for film in 2000. It was a critically panned flop that nevertheless gave rise to two sequels, one made for TV and one direct to DVD. A few years ago Warner Bros. began trying to get a fresh adaptation off the ground, only to get tied up in legal woes. Those issues were finally resolved last year and things have been steadily progressing since then.
As a property, Dungeons & Dragons is endlessly malleable. A high-fantasy setting is a given, but beyond that the characters, the tone, and the storyline could be basically anything. So producer Roy Lee's comments last year offered an interesting insight. According to him, they're looking to a certain other band of mystical creatures for inspiration:
This new Dungeons & Dragons will be a Guardians of the Galaxy-tone movie in a Tolkien-like universe. Because when you think of all the Hobbit movies and The Lord of the Rings, they have an earnestness to them, and to see something fun, a Raiders romp inside that world, I feel is something the audience has not seen before.
Fantasy movies too often default to a Lord of the Rings-style look and feel, so it could be fun to see one that doesn't take itself too seriously. At the same time, it sounds like a bit of a gamble. Go too irreverent, and fans might get annoyed. And then there's the question of whether Elgort could sell a lighter, more playful tone. He's been likable enough in his films so far, but he'll need some Chris Pratt-like swagger to pull it off, and he hasn't many roles yet that show off that side of him.
Do you like Elgort for Dungeons & Dragons? Who else would you like to see get cast?