Will Smith Admits He Made 'Wild Wild West' For All The Wrong Reasons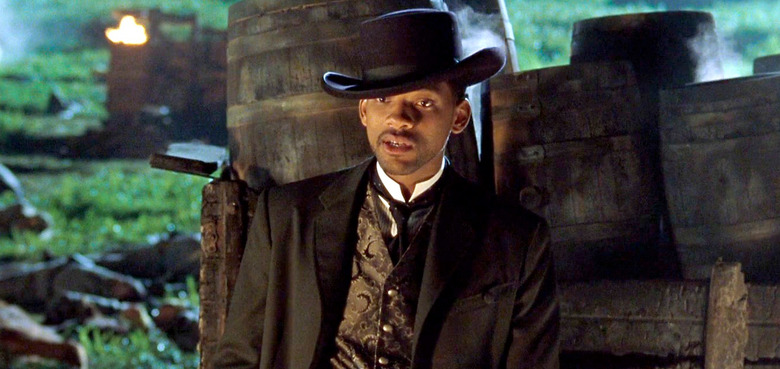 Will Smith was once the king of the summer. After hits like Independence Day and Men in Black made huge bank during blockbuster season, So Warner Bros. thought they could count on rack up some cash for the studio with a film adaptation of the classic TV show Wild Wild West, and they weren't entirely wrong.Wild Wild West raked in $222 million worldwide on a budget of $170 million, but it was obliterated by critics, and there's probably been no moment in time where someone has unironically wanted to watch Wild Wild West at home. One of the worst summer blockbusters ever, Wild Wild West is an absolute nightmare, and Will Smith knew it.
After 17 years, Will Smith seems to be sorry for convincing audiences to go see a movie that featured Kenneth Branagh with some of the most ridiculous facial hair ever, Kevin Kline in drag, and a giant mechanical spider. Find out why Will Smith regrets Wild Wild West and what ultimately made him decide never to make a movie for the same reasons ever again.
Will Smith recently appeared on a Cannes Lions panel, and the conversation turned to Muhammad Ali. While discussing the athlete's legacy (via THR), Smith said, "He was unwilling to compromise for money, accolades, he was living his values rich or poor." And he followed up by acknowledging that he didn't always live his life that way, specifically with regard to his decision to make Wild Wild West back in the late '90s. The actor candidly said:
I had so much success that I started to taste global blood and my focus shifted from my artistry to winning. I wanted to win and be the biggest movie star, and what happened was there was a lag — around Wild Wild West time — I found myself promoting something because I wanted to win versus promoting something because I believed in it.
It's easy to understand how fame and success just makes you hungry to stay on top and continue being the next big thing in Hollywood. And the result was a movie that was nominated for eight Razzie awards, back when the awards actually felt like real kicks to Hollywood's perfectly straight teeth. However, Smith realizes now that not only does he not want to trick his audience into seeing the movie, but that it's very difficult to do so nowadays. Discussing his job as not only an actor but a promoter of his work, he says:
Smoke and mirrors in marketing and sales is over. People are going to know really quickly and globally whether a product keeps its promises. I consider myself a marketer. My career has been strictly being able to sell my products globally, and it's now in the hand of fans. I have to be in tune with their needs and not trick them into going to see Wild Wild West.
He also comments on how technology has allowed word on whether a movie is good or bad to travel much faster, making the trickery he mentioned before even more difficult:
Back in the '80s and '90s you had a piece of crap movie you put a trailer with a lot of explosions and it was Wednesday before people knew your movie was shit. But now what happens is 10 minutes into the movie, people are tweeting 'This is shit, go see Vin Diesel'. It's funny to go sit in a meeting in Hollywood now. It's a new idea that we have to make good movies.
My question is, if Hollywood realizes that it's not as easy to trick audiences, at least in the eyes of Will Smith, then why do they seem to be pumping out worse movies? Maybe it's because Hollywood only ever seems to learn one lesson at a time, it's usually never the right one, and they forget the other lessons they learned when a new one comes along.