Channing Tatum Has No Plans To Make Another 'Magic Mike' Film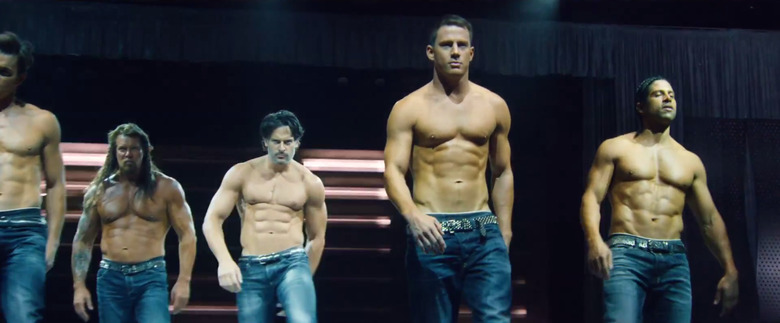 We may not see Michael "Magic Mike" Lane ever again. News had been mostly quiet — too quiet — regarding Magic Mike 3 since XXL tore theaters up last summer. The sequel didn't sell as many tickets as the first film did, but it performed decently enough, and the diehard Magic Mike fans responded well to the delightful road trip movie. So, with that success in mind, the question is: Why aren't we going to see Magic Mike XXXL or a Magic Mike 3D? Well, we're technically going to see a Magic Mike 3, just not in theaters.
Below, Channing Tatum provides an unfortunate Magic Mike 3 update.
While Tatum doesn't intend on making another Magic Mike film, he isn't finished with the Magic Mike brand just yet. Last month, it was announced the actor would direct Magic Mike Live with Magic Mike choreographer Alison Faulk and assistant choreographer/actress Teresa Espinosa. The Las Vegas show, which will begin next March at the Hard Rock Hotel & Casino, is, in some ways, a continuation of the film series.
Speaking with The Hollywood Reporter, Tatum told the outlet Magic Mike 3 is the show:
The third installment will be the show, and I think it has to evolve past these guys. The first one was about Mike, the second one was about the guys and I think the third one is really about man and woman having a conversation about sex and themselves and who we all are. That's the next step I would like to take with the story.
Tatum is talking about the Las Vegas show serving as the third Magic Mike installment. But he's also working on a Magic Mike stage musical, possibly chronicling Michael Lane's origin story. Shortly after the release of the first film, director Steven Soderbergh, Tatum, and screenwriter Reid Carolyn discussed creating an "interactive experience" with the musical. Tatum confirmed to THR a director is attached to the Broadway show and that a script is in the works.
With Magic Mike Live and the Broadway musical, Tatum is continuing to venture outside of acting, getting more involved behind the scenes. The actor, who may soon make his directorial debut with an adaptation of Forgive Me, Leonard Peacock, told THR he wants to keep changing things up:
Once I start repeating stuff I just get bored. I start to not be as connected to it. I haven't really overthought the scope in which I have started to push the boundaries and step out of acting.
Maybe one day he could push those boundaries with Magic Mike 3, a project which, over a year ago, he wasn't sure about — but he did add "never say never." Magic Mike XXL ends on an incredibly satisfying, victorious note for the characters, and it's not a bad place to leave the charming pack of male strippers, but it's mildly disappointing, to say the least, that we probably won't see these characters enjoying themselves again on the big screen.