Rumor: Disneyland Paris To Get Star Wars Rollercoaster Revamp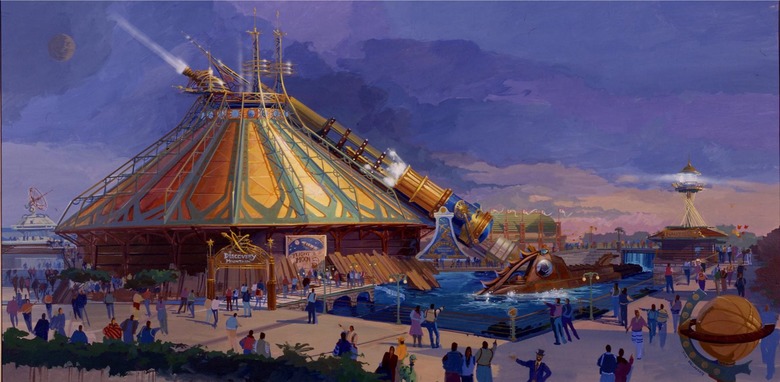 Disney is currently constructing Star Wars-themed lands in their Orlando and California theme parks, but what about the international Disney parks? When will they get the Star Wars love? A new rumor claims that Disneyland Paris might be getting a revamped version of Space Mountain that will incorporate an entirely new Star Wars storyline. Learn the details of a possible Disneyland Paris Hyperspace Mountain, after the jump.
Okay, so this rumor comes from ED92, who has been generally well informed in the past. That said, we should consider it a rumor until it's officially announced. The report claims that a third version of Space Mountain is in the works for Disneyland Paris' Discoveryland which would theoretically open as part of Disneyland Paris' 25th anniversary, along with Star Tours: The Adventures Continue. Here is what was said, translated into English:
Some months ago, several Imagineers of Walt Disney Imagineering came to Disneyland Paris to perform some tests on Space Mountain: Mission 2, exploring the possibilities offered by its latest long renovation. The program would include the very famous Star Wars music in the trains and projections of an epic battle between X-Wings and Tie Fighter. You understand now, the famous "Space Mountain Version 3" we were talking about since a long time now arrive and will be dedicated to Star Wars! As usual your adventure will begin with the help of the Columbiad cannon, which this time would not send you to an anonymous galaxy where a star becomes a supernova. This time it will catapult you into the most famous of all open confrontation between the Resistance and the First Order with, as a finale, an exploding Star Destroyer before returning to Earth at light speed. Note that this new "mission" would arrive in March 2017 along with the new trains for the 25th anniversary of Disneyland Paris and should be a permanent dressing like his "clones" at Disneyland in California, Walt Disney World in Florida and Hong Kong Disneyland. But DLP specificity, we'll have the opportunity to have a much better quality video, our Mountain having much larger screens than its counterparts. It would not be the only attraction to host the Star Wars license next year as Star Tours 2 is also scheduled to open for the 25th Anniversary...
Of course, Anaheim's Disneyland opened their own Star Wars overlay of Space Mountain called Hyperspace Mountain in November 2015. Originally part of the "Season of the Force" celebration, Disneyland has kept the overlay going due to extremely positive park guest reaction and there is not an official end date for the Star Wars version of this classic attraction. Disney also transformed the Hong Kong Disneyland Space Mountain into a Hyperspace Mountain a couple weeks back.
This new report seems to suggest that a Disneyland Paris Hyperspace Mountain could be of the more permanent variety, which makes me wonder if the Mouse House will make the same decision for the domestic attraction. Disneyland fanatics usually get crazy when its suggested that any ride or attraction will be permanently changed or altered, although the seasonal change of Haunted Mansion to a Nightmare Before Christmas version has been more widely accepted. I'm wondering if Disneyland were to make Hyperspace Mountain permanent, whether fans would be upset. The attraction was not an opening day ride, or even a ride that Walt Disney personally saw to fruition (although he was involved in very very early designs). In fact, the ride opened May 27th 1977, just two days after George Lucas' Star Wars hit theaters.
I'd honestly love to see the Space Mountain queue to get some much needed love and retheming. The loading area could definitely be updated as an X-Wing bay. But would there be a point in a permanent retheme when the much grander Star Wars Land is on its way later this decade? I've honestly wondered if Star Tours would remain in Tomorrowland after The Star Wars Experience has its grand opening. I've heard theories that Disney might move Star Tours to the new land, but also that the attraction and ride vehicles would be repurposed as something else within Tomorrowland. Remember, Hong Kong is getting a Iron Man ride using the same exact simulators, so it would be easy to port that over to Disneyland.
And for those of you who haven't visited Disneyland Paris, here is a ride video of the current Space Mountain: Mission 2, which you'll see has a much different exterior than the Florida and California attractions as it was originally themed around Jules Verne's classic 1865 novel From the Earth to the Moon. The ride was revamped 11 years ago, and now features an onboard audio track composed by Michael Giacchino.