Nicolas Winding Refn Wants To Make A 'Batgirl' Movie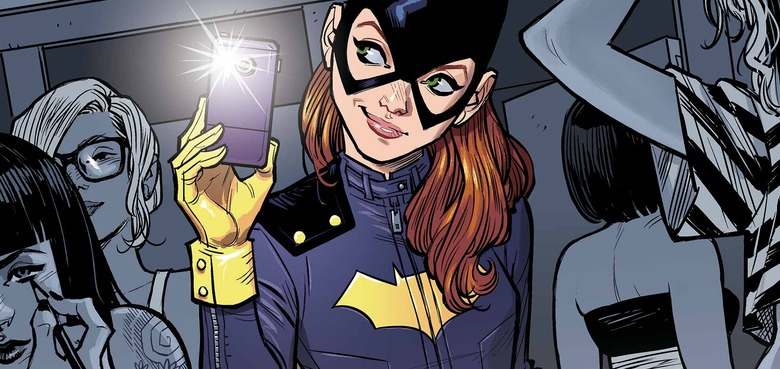 The Neon Demon is Nicolas Winding Refn's first movie with a female lead, but that's not for lack of trying. You may recall that way back, Refn wanted to direct a Wonder Woman movie. That didn't happen, obviously — the Wonder Woman movie due out from Warner Bros. and DC next year is directed by Patty Jenkins — but now he's got his eye on a different superheroine. In a recent interview, he revealed he wanted to make a Batgirl movie. 
Speaking with Business Insider, Refn said he still hoped to make a superhero movie someday. "God, I would love to make one, it would probably be great fun," he said. "I just don't know when it's going to happen. I very much enjoy my freedom creatively, but I also would love to make one of those big Hollywood films that costs a lot of money and has a lot of people running around with cell phones and all that insanity." Asked which character he wished to take on, Refn responded, "I want to make Batgirl. Let's get Warner working on it."
A superhero film would be a huge change of pace for Refn, whose Drive once inspired a lawsuit from a filmgoer upset that the moody thriller wasn't enough like The Fast and the Furious. Modern-day blockbusters are definitely more like the Fast and Furious films than they are like Drive, though whether that's a good thing or a bad thing is a matter of opinion. Personally, I'd love to see comic book movies branch out into weirder and more creative directions, though I'm not entirely sure Refn is the right guy to take them there.
But I'm not the one Refn has to convince, of course. Warner Bros. has been working hard to get their house in order after the disappointment of Batman v Superman. They've shuffled around the people behind the scenes, restructured their organization, and rushed to do preemptive damage control on Justice League. It's hard to imagine an idiosyncratic filmmaker like Refn accepting the limitations and obligations of franchise-building, and it's also hard to imagine Warner Bros. taking a risk on a filmmaker who may or may not want to fall in line with their vision for the DC Extended Universe.
In short, it's a fun idea, but not one that's likely to happen. Then again, it's not like Batgirl is doing anything in the DC Extended Universe right now. So feel free to fantasize about Nicolas Winding Refn's Batgirl until we get had evidence it's not happening.