'Star Trek Beyond' Trailer: Rihanna Chimes In With A New Single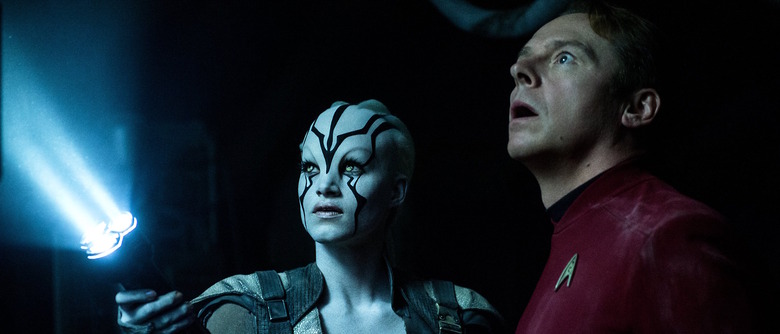 There are plenty of reasons to get excited about Star Trek Beyond. It's the new film by Justin Lin, the man who shepherded the Fast and Furious series into blockbuster-dom. It's got a fantastic cast, with Idris Elba and Sofia Boutella joining the returning stars. And it looks like tons of fun, combining eye-popping action with plenty of drama and heart. But if you're still skeptical, maybe this next trailer will be the one to win you over. It's got a secret weapon in the form of "Sledgehammer," a new single by Rihanna. Check it out after the jump. 
Rihanna's voice certainly adds an epic flavor to all that gorgeous chaos. When she's not singing, Star Trek Beyond will feature music by Michael Giacchino, who also scored the last two Star Trek movies.
Star Trek Beyond's trailers have inspired grumbling from some fans who dislike the franchise's recent emphasis on explosive action over the philosophical and moral questions that drove the TV shows. But star Chris Pine has argued that the action is necessary in this day and age. "You can't make a cerebral Star Trek in 2016," he said. "It just wouldn't work in today's marketplace." And he's kind of right — you don't get a studio to commit to a nine-figure budget by promising intriguing moral dilemmas.
Besides, he said, there's still plenty of room for "crazy, really demanding questions." "The question that our movie poses is 'Does the Federation mean anything?'" he explained. "And in a world where everybody's trying to kill one another all of the time, that's an important thing. Is working together important? Should we all go our separate ways? Does being united against something mean anything?" Hopefully he's right — we could definitely use a big-budget blockbuster this summer that's something more than just incoherent CG mayhem.
Star Trek Beyond opens July 22.
"Star Trek Beyond," the highly anticipated next installment in the globally popular Star Trek franchise, created by Gene Roddenberry and reintroduced by J.J. Abrams in 2009, returns with director Justin Lin ("The Fast and the Furious" franchise) at the helm of this epic voyage of the U.S.S. Enterprise and her intrepid crew. In "Beyond," the Enterprise crew explores the furthest reaches of uncharted space, where they encounter a mysterious new enemy who puts them and everything the Federation stands for to the test.