John Boyega Teases New Project With 'Attack The Block' Director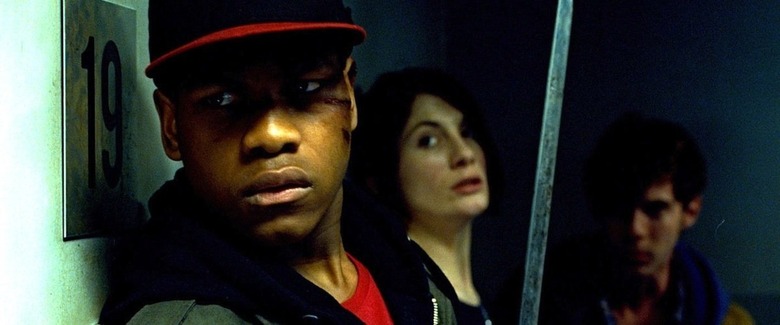 Coming off of Star Wars: The Force Awakens, John Boyega is now a huge Hollywood star. However, you probably remember first seeing him in the Edgar Wright-produced film Attack The Block (we certainly do). It is hard to believe that its been five years since Attack the Block hit theaters. And we've been waiting for director Joe Cornish to make a follow-up. And over the weekend on Twitter John Boyega teased that he may be reteaming with Cornish on a new project. But what could this new John Boyega Joe Cornish collaboration be?
Here is what John Boyega said on twitter:
Saw Joe Cornish the other day. Yes. We are brainstorming. #somethingnew

— John Boyega (@JohnBoyega) June 25, 2016
Yeah, not a whole lot of information there. He doesn't even say if its a movie but I kind of doubt that Boyega would be brainstorming a television project with this particular director. Whatever it is, I hope that it happens sooner rather than later. We've waited five years for a follow-up and have yet to get anything.
Sure, Cornish helped write The Adventures of Tintin for Steven Spielberg, worked for years with Edgar Wright on Ant-Man before the filmmaker and Marvel Studios split over creative differences, and did some uncredited screenplay polishes. And it's not that Attack the Block didn't impress the hell out of everyone. All the movie studios have been courting Cornish for their big blockbusters: J.J. Abrams wanted him to direct Star Trek 3, Legendary wanted him for Skull Island, Fox was considering Cornish for Marvel's Gambit, Sony wanted him for Masters of the Universe and more.
In 2012, Fox hired Cornish to direct an adaptation of the graphic novel Rust: Visitor in the Field while Paramount nabbed the filmmaker to direct an adaptation of the Neal Stephenson novel Snow Crash, but neither of those projects have come to fruition. In 2014 Cornish signed on with Universal to direct the black list screenplay Section 6 about the formation of MI6, but we've heard very little about that film since. The filmmaker had also been approached to do a possible American remake, sequel, and/or TV spin-off of Attack the Block, but that too doesn't look to be happening.
And if by any chance you're reading this and haven't seen Attack the Block, please stop whatever it is that you're doing and rent or buy it. If the British sic-fi action comedy was too hard of a sell previously, now you can convince your family or friends to give it a chance with the promise of it featuring "Finn from that Star Wars movie."