'Inferno' Trailer: Can Tom Hanks Stop A Global Plague Without His Memory?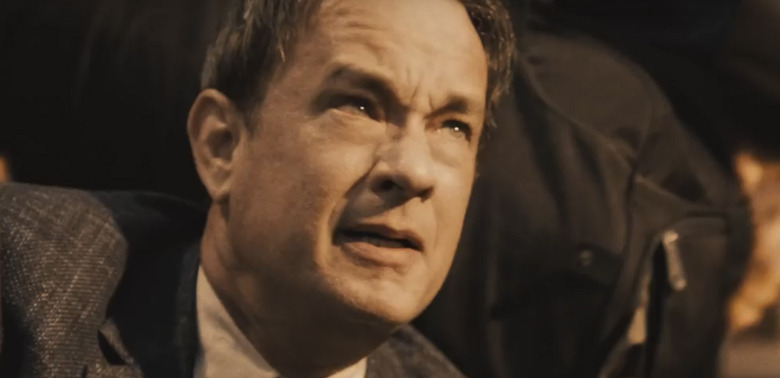 In what has essentially become a more deadly, less entertaining version of National Treasure, the adaptations of Dan Brown's book series following symbologist Robert Langdon continues this fall with Inferno. Back in the lead role is Tom Hanks, but this time his character has a little bit of a problem: he's lost part of his memory.
A new international Inferno trailer finally lays out this important plot detail after all the previous teases of the movie left it out. Thankfully, despite this handicap, Langdon still has all those years he spent in school to help him decipher codes and puzzles created for him to stop a plague, but there are some key pieces of information he seems to have lost after an accident.
Watch the new international Inferno trailer after the jump.
Honestly, I'm surprised this movie even happened. At one point, an adaptation of Dan Brown's The Lost Symbol was in the works, but it's been bypassed to move on to this most recent adventure featuring Robert Langdon. These movies have become like big budget episodes of CSI or NCIS or whatever shows your grandparents watch on CBS. How many times can we be excited when Tom Hanks says, "Look, another clue!" or "We have to find it," over a two-hour period.
At the very least, maybe the supporting cast will make this movie worth watching. This time Hanks is joined by Oscar winner Felicity Jones (The Theory of Everything), helping Langdon work through these clues as well as his memory issue. Plus there's Irrfan Khan, Omar Sy, Ben Foster and Sidse Babett Knudsen along for the ride as well. Maybe having this assembly of talent working with director Ron Howard will yield decent results. It can't be any more boring than Angels & Demons, right?
Academy Award® winner Ron Howard returns to direct the latest bestseller in Dan Brown's (Da Vinci Code) billion-dollar Robert Langdon series, Inferno, which finds the famous symbologist (again played by Tom Hanks) on a trail of clues tied to the great Dante himself. When Langdon wakes up in an Italian hospital with amnesia, he teams up with Sienna Brooks (Felicity Jones), a doctor he hopes will help him recover his memories. Together, they race across Europe and against the clock to stop a madman from unleashing a global virus that would wipe out half of the world's population.
Inferno will open in theaters on October 28.