'Deadpool' Hijacks Japan's 'X-Men: Apocalypse' Trailer To Take Some Shots At Fox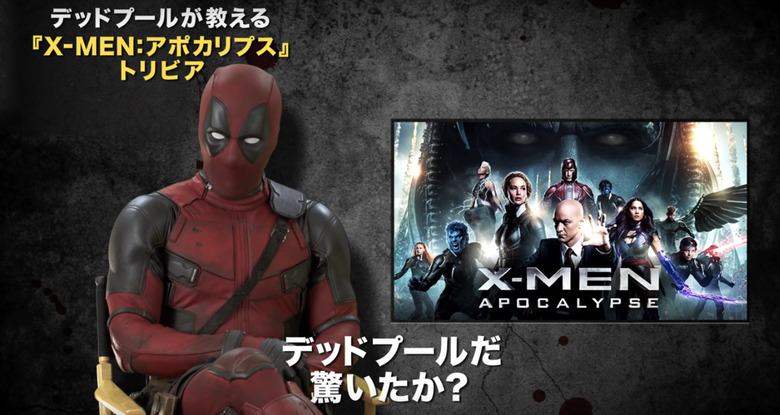 Everyone here in the United States got to see Deadpool back in February, and even if you didn't catch it in theaters, it's been available on home video for about a month now. But over in Japan, audiences just got to see the Merc with a Mouth on the big screen when it arrived on June 1. In addition, they're also still waiting to see X-Men: Apocalypse when it arrives on August 11.
What's cool is that despite the long wait to see these movies after they've hit the US, our friends in Japan get to see some fun cross-promotional marketing featuring Deadpool popping up after the new X-Men: Apocalypse trailer. Even more amusing is that the Merc with a Mouth actually throws some shade on 20th Century Fox.
Watch the Japanese X-Men Apocalypse trailer with Deadpool after the jump.
There must be some kind of award that can be given to Ryan Reynolds for his dedication to promote the hell out of the movie. Sure, he's contractually obligated to do marketing for the movie, but there are few actors who did this much to promote a project. It just goes to show you how passionate and dedicated he was to make sure an audience saw how much care they put into making the raunchy superhero flick.
As for the dig at Fox at the end of this trailer, those who were disappointed in X-Men: Apocalypse surely agree that some of the studio's movies are pretty hard to get through. Of course, I enjoyed X-Men: Apocalypse more than others, but I still recognized its shortcomings and flaws, especially with regards to the weak story. But maybe Fox realizes they have some problems (looking at you Fantastic Four) since there's a rumor that they're considering some kind of comic book crossover with Marvel Studios after the positive reaction fans had to Sony's deal to share Spider-Man with Marvel.
While Japan waits to see X-Men: Apocalypse, we're waiting to get some solid updates on Deadpool 2. However, since the film isn't slated to start shooting until sometime in 2017, it might be a little while before we hear any updates on the production.
Deadpool is available on home video in the United States and X-Men: Apocalypse is still in theaters.