Kellan Lutz Is In The Running For 'Masters Of The Universe'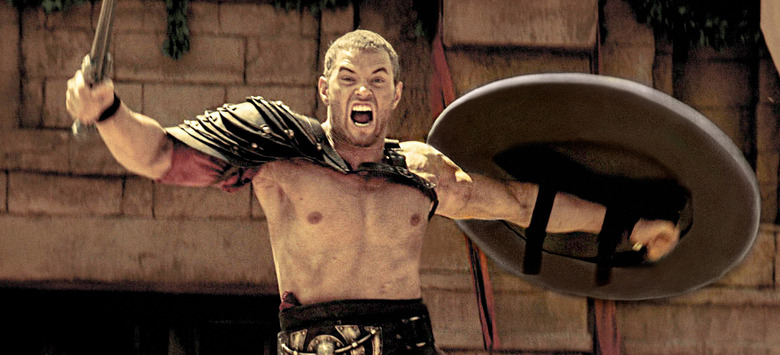 A new big screen version of Masters of the Universe has been in the works for years with various writers penning new drafts, but no version getting anywhere near getting in front of the camera. The latest attempt is in the hands of Sony Pictures with Charlie's Angels director McG in talks to bring He-Man to the big screen again for the first time in nearly 20 years, and now it sounds like the filmmaker is meeting with potential stars for the movie.
Kellan Lutz, who found fame with a supporting role in The Twilight Saga and has followed it up with a series of awful movies like The Legend of Hercules, recently revealed that he met with McG, specifically about the Masters of the Universe movie. Find out more after the jump.
Here's what Kellan Lutz posted to Twitter (via io9):
Hey @HeManTheMovie and all MOTU fans,

Had an amazing meeting with @McGsWonderland and @ItsMaryViola talking MOTU!

ITS IN GREAT HANDS! 💪⚔

— Kellan Lutz (@kellanlutz) June 24, 2016
Mary Viola is the president of McG's production company Wonderland Sound & VisionHowever, so this was an important meeting. Keep in mind this doesn't necessarily mean that Lutz is in active negotiations for a role in Masters of the Universe, and we have no idea if that role would be the lead role of He-Man. But when you take into account the fact that he's a handsome guy with a decent enough fan following, it's not hard to understand why the studio might be interested in him. Plus, one fan posted this in response to this revelation:
okay people
Announce it already!!!!!!!!! pic.twitter.com/s7bTewLsfO

— lisa davis (@nan5zac) June 24, 2016
You have to admit, the guy looks good in the armor, and he's certainly got the physique to protect Castle Grayskull from Skeletor. But guys who are ripped and look like leading men are a dime a dozen in Hollywood, and a major film franchise needs someone who can really act to lead it. Sure, that didn't stop Sam Worthington from landing the lead role in Avatar or Hayden Christensen from becoming Anakin Skywalker in the Star Wars prequels, but most of the time, acting skills take precedence over being really, really, ridiculously good-looking.
Again, Kellan Lutz may not be in talks for He-Man specifically, but if this is the kind of talent McG is seeking out, I'd start to get worried. There's a good chance this is just a preliminary meeting for McG to get a feel for talent before he starts honing in on who he wants for roles in Masters of the Universe, but if we end up getting Kellan Lutz as He-Man, this movie is in trouble. Lutz is a nice enough guy, but he couldn't act his way out of a paper bag. He's like a mannequin got a wish to become a real boy, and there's nothing on his resume that shows he's capable of leading a franchise effectively. This is the best work Lutz has done, a cameo as "himself" on 30 Rock:
Then again, Dolph Lundgren, another actor who was all muscles with little in the vein of real acting skills, played He-Man in the 1987 film adaptation of the animated series, so it would be par for the course if Lutz got the role. At the very least, the good news is that Masters of the Universe is still in active development, and McG is starting to look at talent to fill the roster of characters from Eternia.
Who do you think should play He-Man in Masters of the Universe?