'The Leftovers': Damon Lindelof Teases Final Scene, Season 3 To Premiere In 2017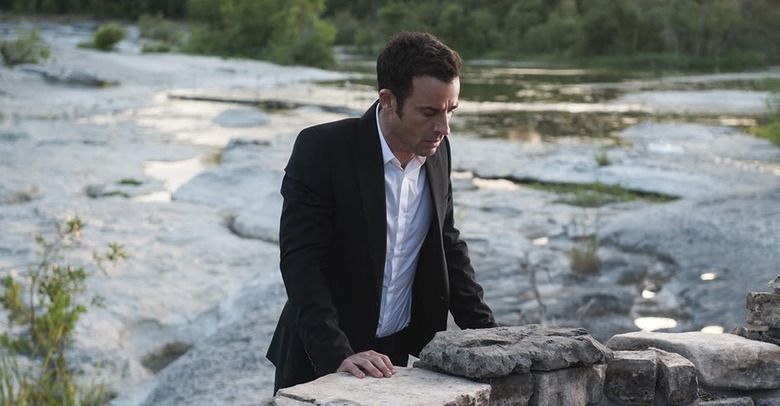 With season two of HBO's The Leftovers, showrunner Damon Lindelof and all involved were telling a story about geography. The show picked up and moved to Jarden, Texas, for thematic reasons, and, by moving to Australia, season three is pulling a similar move. In December, it was announced season three is the final season of The Leftovers, which, Lindelof says, will conclude with an ending they've structured the entire upcoming chapter around.
Below, Damon Lindelof discusses The Leftovers ending.
The first two episodes of season three were already shot in Texas. Lindelof tells Deadline they're currently prepping to film the remainder of the season in Australia. Why the series is moving to another country he doesn't go into — possibly because Kevin (Justin Theroux) is looking for his father (Scott Glenn), who may not be as crazy as he once thought — but he does say they started writing season three with the ending in mind:
Well, we started with the very end. We eventually said, what do we want the last scene of the series to be, who's in that scene and what's happening in that scene, what do we want that scene to evoke emotionally? And then, on a storytelling level, what happens, what feels like finality in a show that has never been about resolving mystery and delivering conclusive endings, now that the show is actually going to end? And how do we want the audience to be feeling when it's all over? So, those conversations started in a very abstract way and as they developed became much more coherent and sort of formed themselves into "OK, we know what that last scene is, now, how are we going to get there?"
How does Lindelof want the audience to feel at the end? Well, for starters, the ending is "definitely not a shock," he explains. Season two ended on a comforting and moving note about family, and as for whether season three will share that sense of comfort, Lindelof says it's "relative."
Obviously, after Lost, Lindelof's name is synonymous with endings. This time around, he's feeling less pressure and taking a healthier approach to how fans might receive The Leftovers' ending:
I think that The Leftovers has carved out a space in the zeitgeist that's much more culty, it's a much smaller, impassioned audience. And so, I don't feel the pressure that say a Breaking Bad or a Game Of Thrones or a Lost or Walking Dead feels, when they're ending seasons or series.
I feel like, if you like The Leftovers, if you're watching The Leftovers, at this point, my job is basically to be as authentic to the same show that I've been writing all along and not really stray from that. And hopefully the audience will dig it, but that's something that you can't predict. And it's a waste of time and energy to lay up at night, wondering whether or not people are going to like it. I just have to make the people around me like it.
Lindelof goes on to say he doesn't know what he'll be working on after The Leftovers, which he'll be completely done with around the holidays later this year. In other news, THR reports that actress Lindsay Duncan (Rome) is joining The Leftovers' ensemble cast. The outlet doesn't specify who Duncan is playing.
Here's a behind-the-scenes image from The Leftovers season three, which, sadly, won't air until 2017:
#BTS with Justin Theroux on #TheLeftovers Season 3 set in Austin. pic.twitter.com/jJzqNf8JnH

— The Leftovers (@TheLeftoversHBO) June 14, 2016
If you want to read our three-part interview with Lindelof discussing season two of The Leftovers, here are the links to part one, two, and three.