A24 Is Planning A Summer Release For Gus Van Sant's 'The Sea Of Trees'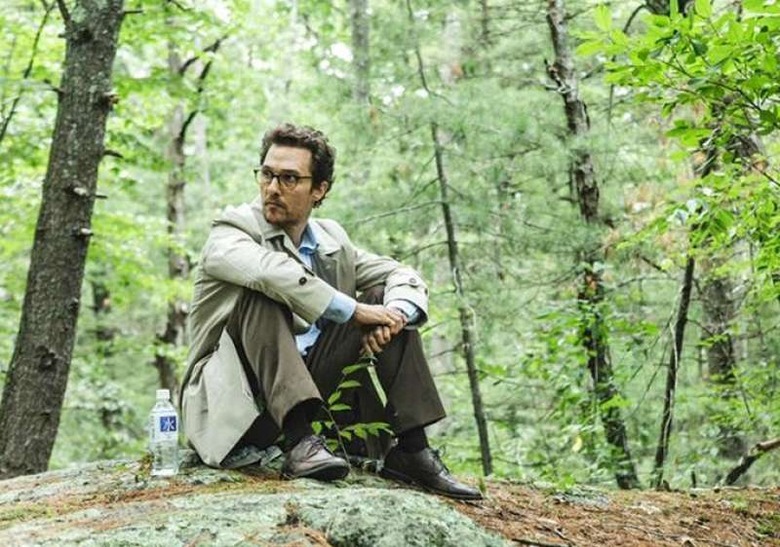 Days before Gus Van Sant's newest film The Sea of Trees premiered at last year's Cannes Film Festival, Roadside Attractions and Lionsgate acquired the drama. 13 months after the acquisition, and after the film has already been released in a few foreign territories, it's still without a domestic release date. But we may finally see Van Sant's latest this summer, courtesy of A24.
Below, learn more about The Sea of Trees distributor.
Written by Chris Sparling (Buried), the drama stars Matthew McConaughey, Ken Watanabe, and Naomi Watts. The story revolves around two men that go into Japan's Aokigahara, a mysterious and vast forest also known as the Suicide Forest or Sea of Trees.
The Hollywood Reporter broke the news of The Sea of Trees leaving Roadside Attractions and Lionsgate. No reason for the move has been given, but A24 intends on releasing the film later this summer. As the outlet mentioned, this is the second time A24 has recently stepped up to release a movie that initially had another distributor. The Lobster's original home, Alchemy, ran into some financial issues, forcing them to scrap the March 11th release date. Alchemy was going to dump the project if another distributor wasn't found, but then A24 swooped in to release the beautiful, haunting, and funny romance. The film ended up grossing close to $7M in the States.
Will The Sea of Trees find similar success at A24? The film didn't fare well with critics last year at Cannes, and it doesn't look as accessible as The Lobster. Whatever happens, Van Sant's latest is in good hands with A24, a distributor that'll finally make the film available to the director's fans.
Here's the official synopsis via Cannes:
It's love and loss that lead Arthur Brennan, across the world to Japan's Aokigahara, a mysterious dense forest known as The Sea of Trees lapping the foothills of Japan's Mount Fuji – a place where people go to contemplate life and death. Arthur enters the depths of the forest and loses himself beyond the guiding ribbons threaded through the trees by many before him. Having found the perfect place to die, Arthur encounters Takumi Nakamura, a Japanese man who also appears to have lost his way. Unable to leave Takumi behind, Arthur invests all of his remaining energy into saving Takumi and returning him to safety. The two men embark on a journey of reflection and survival, which affirms Arthur's will to live and reconnects him to his love with his wife.