'Insecure' Trailer: Issa Rae Brings Her Awkward Humor To HBO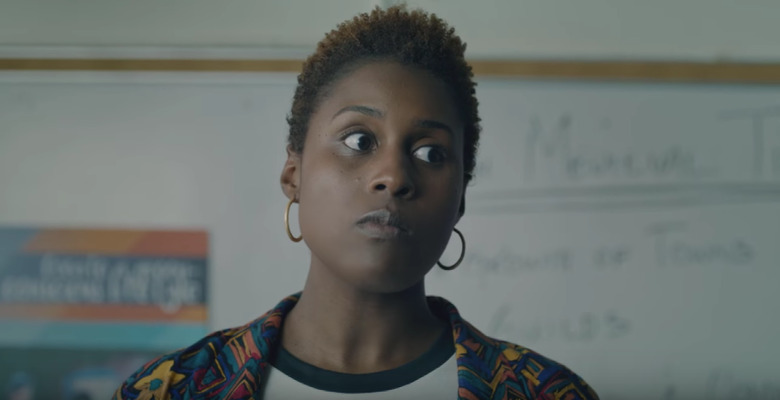 HBO's drama side is struggling right now, as we were reminded when Vinyl became its latest mercy-killing earlier this week. But on the comedy side, things are looking much, much sunnier. Veep is still going strong under a new showrunner; Silicon Valley is better than ever; Ballers is HBO's biggest comedy hit since Sex and the City; and Curb Your Enthusiasm is set to return for season 9.
And its upcoming slate looks pretty interesting, too. Today we have the first trailer for Insecure, a new half-hour comedy from Awkward Black Girl creator Issa Rae. The show seems to fit right into the HBO brand while also offering something a little different. If Insecure is as fun as the promo it looks like HBO will have another hit on its hands. Watch the trailer below. 
HBO doesn't have many current shows with a predominantly black cast, so it's nice to see them branch out a bit with Insecure. At the same time, Rae's sharp sense of humor should have no trouble sitting alongside HBO's other top comedy series. Insecure took some time to pull together — HBO first began developing it all the way back in 2013 — but thankfully it looks like Rae's efforts will have been worth it. Awkward Black Girl put Rae on the map, attracting praise from critics and ordinary viewers alike, and Insecure has the potential to take her to the next level.
Insecure will begin airing sometime this fall, though HBO hasn't announced an exact date. If we had to guess, it seems likely to air with Divorce and Westworld, both of which are also on track to premiere this fall. The former is Sarah Jessica Parker's new comedy from Catastrophe co-creator Sharon Horgan, and the latter is Jonathan Nolan's sci-fi drama that's already been pushed back more times than we can count.
This fall, something extraordinary new is coming to HBO. Watch the half-hour comedy series Insecure, starring Issa Rae, Yvonne Orji, Jay Ellis and Lisa Joyce, that looks at the friendship, experiences and tribulations of two black women. Created and executive produced by Issa Rae, this eight-episode series is also executive produced by Prentice Penny, Melina Matsoukas, Michael Rotenberg, Dave Beck, Jonathan Berry, and Larry Wilmore as a consultant.