'Broom-Hilda' May Get Her Very Own Movie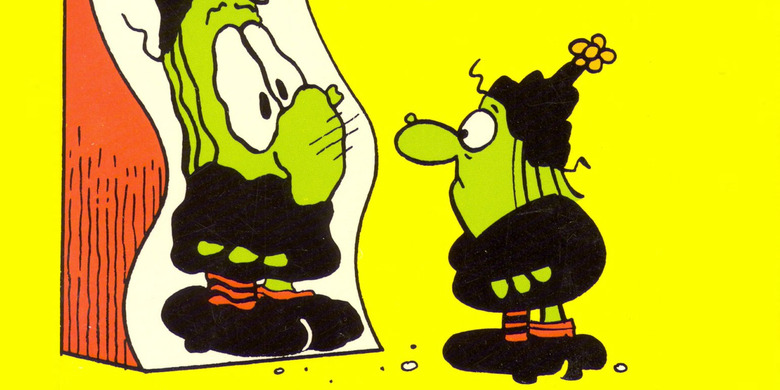 Broom-Hilda, the 1,500-year-old witch, may be making her way to theaters. Created by Russell Myers in 1970, the cigar-smoking, beer-drinking witch is the star of a long-running newspaper comic strip. The character has also appeared twice on television in animated form. Now producers Gilbert Adler and Jason A. Rosenberg's hope is to make her the star of her own film franchise.
Below, learn more about the Broom-Hilda movie.
Broom-Hilda maybe isn't the hottest or newest comic book property, but Adler and Rosenberg see a lot of potential in the character. According to Deadline, the duo acquired the IP from the Tribune Content Agency, based in Chicago. Rosenberg explained they're hopeful the project, which Gil Adler Productions is developing and producing, will lead to sequels, a television show, and more:
Russell Myers has been entertaining audiences for years. We're excited to bring this to the big screen. We plan to create a franchise and leverage the IP across film, television and digital media.
What kind of producer doesn't wish for all that? Adler and Rosenberg don't intend on making a Broom-Hilda movie solely for kids. The character, who's constantly on the search for a husband, hasn't always been kid-friendly, either. Adler likened the project to the Jim Carrey comedy, Liar, Liar, saying they want to make a comedy that's "very funny yet poignant":
When you look at the comic strip, it looks like maybe it's for a young audience, but we look at it differently. This is about a witch who has varying powers, but has a problem with weight. And if you look around, doesn't everyone? And we thought, well that's it. One of my favorite movies was Liar, Liar. It was funny but it was also heartwarming with the story about the relationship between a father and his son. With this project everyone is concerned about their weight whether they are over or under and that can be very funny yet poignant.
Gilbert Adler's producing credits include Valkyrie and Starsky & Hutch. He's had experience of working on comic book adaptations as well, to varying degrees of success; he executive produced the overlooked Constantine adaptation and the disastrous Dylan Dog: Dead of Night. The Superman Returns producer was also a major part of HBO's adaptation of Tales From the Crypt, which made for a successful show that ultimately led to two movies, and Adler is likely wishing to find similar success with Broom-Hilda.