Rumor: Universal Wants Dwayne Johnson For 'The Wolf Man'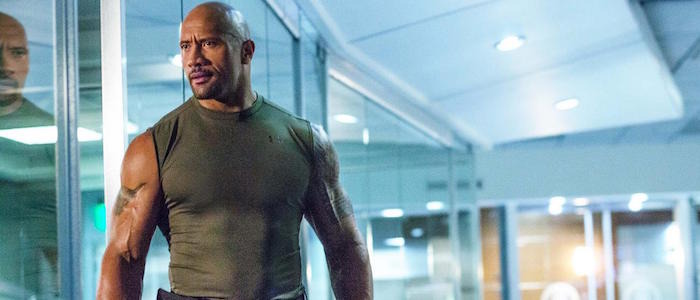 I'll give Universal this much: they appear to be hellbent on ensuring that their upcoming Universal monster revivals are major events. The original films were B-movies in the classic sense of the word, produced for small budgets by clever filmmakers forced to work within the confines of a genre that many audiences and artists simply did not take seriously. Time has been kind to Dracula and Frankenstein and the rest of their cinematic siblings, but it took a few decades for the original run of classic monster movies to truly earn their place in the larger cultural canon.
And now, we're looking at a possible future where Dwayne Johnson, one of the biggest movie stars in the world, is apparently being eyed to star in a new version of The Wolf Man.
This is only a rumor at the moment, so take all of this with a grain of salt. It's not even the main point of the Deadline article where this tidbit of news was revealed – it's a throwaway line about Johnson's increasingly busy schedule that references Universal wanting The Rock to headline The Wolf Man. That could mean any number of things. Universal may have had preliminary discussions with Johnson. This discussion may be strictly internal and the word leaked out. Who knows?
However, this news does align with everything else Universal has set in motion for their new classic monster cinematic universe (which is going to need a better name if it gets going). After all, the currently filming revamp of The Mummy is a Tom Cruise vehicle, with the actor taking on an ancient evil portrayed by Star Trek Beyond star Sofia Boutella and the new version of The Invisible Man is set to star Johnny Depp and whatever goofy hat he decides to wear. Universal is going after movie stars for these films. They appear to be going all-in.
Still, I can't quite shake the feeling that Dwayne Johnson may not be the right choice for this character. He's an incredible screen presence, a man whose gigantic frame is bursting with charisma and wit, but I can't envision him as a tortured soul who is burdened with a terrible curse that saps his spirit and damages his soul. Most of the classic Universal monsters are damaged and tragic creatures, but the Wolf Man is a genuine victim. It's hard to picture Johnson, all-powerful and superhuman, in that position. But I would love to be wrong.
In any case, The Wolf Man is being written by Prisoners screenwriter Aaron Guzikowski and is currently set for an April 13, 2018 release date. No director is attached.