'Transformers: The Last Knight' Introduces An Adorable New Autobot Named Squeeks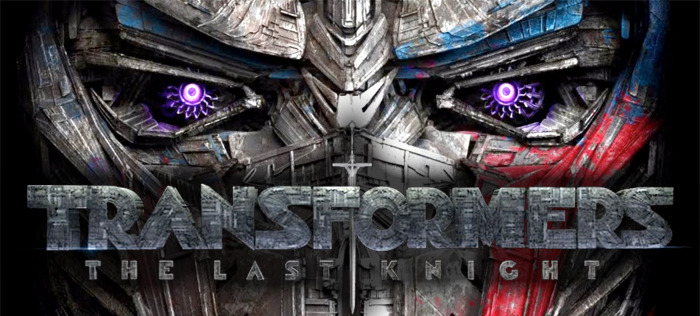 So far the images from Transformers: The Last Knight have only offered glimpses of the new vehicle forms for the Autobot Bumblebee and the Decepticon Barricade. But that changes today as we get a look at an adorable new Autobot named Squeeks. And with a name like that, you wouldn't expect him to turn into a fancy sports car or some kind of military vehicle. In fact, he doesn't even turn into a car at all. Instead, Squeeks is a little blue Vespa scooter.
In addition, to the reveal of the new Transformers character Squeeks, a couple interesting new logos for the forthcoming sixth and seventh installments of the Transformers franchise were revealed, with one of them seemingly confirming that it will be a film focusing on Bumblebee. Check out all the images after the jump.
The official Transformers Twitter account decided to be cute while introducing Squeeks:
Rolling onto set... #transformers pic.twitter.com/pBQQy4zGPb

— Transformers (@transformers) June 22, 2016
So Mark Wahlberg sleeps on set, while Squeeks has its own little touch-up crew and everything:
.@michaelbay just a few more touch-ups. pic.twitter.com/j0p9l39yaH

— Transformers (@transformers) June 22, 2016
Finally, Michael Bay revealed the little robot on his Instagram page, and he's pretty cute:
My talented young co-star of Transformers, Isabela Moner. And and introducing a new character, Squeeks..#transformers #markwahlberg #isabelamoner
As you can see, that's new franchise star Isabela Moner in the image as well, and I wouldn't be surprised if she becomes the new lead of the entire series in place of Shia LaBeouf's departed Sam Witwicky. In fact, I would also bet that Squeeks becomes a sort of reliable Bumblebee character for Isabela Moner. That's just speculation on my part though.
Interestingly, the confirmation of the existence of Squeeks suggests that the plot details recently unearthed by JoBlo are probably accurate. If you want to know the plot, with some potentially spoilery details, go read their full report.
Otherwise, fans of the franchise can look forward to the future of sequels that's already in store from Paramount Pictures. TFW2005 has an image release during the Jefferies 2016 Consumer Conference where Hasbro laid our there future marketing plans, especially with regards to the movies on the way that they have licensing deals for. Here it is: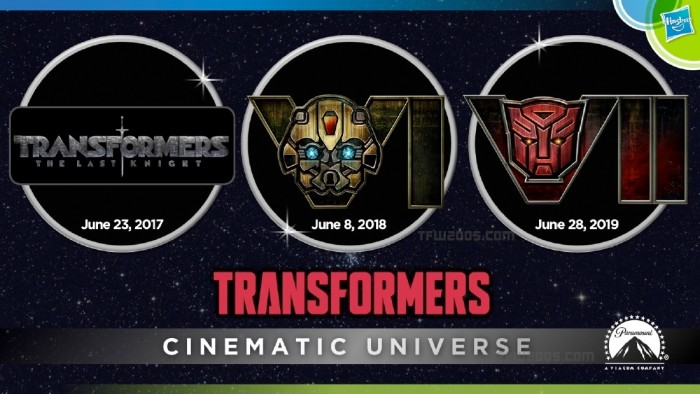 As you can see, the logo for Transformers 6 prominently features Bumblebee and has the release date of June 8, 2018, which is when we heard the yellow guy's spin-off was going to get released. That likely means that whatever happens in that movie won't just be a standalone adventure but will impact the rest of the franchise as well. Meanwhile, Transformers 7 on July 28, 2019 just seems to be your average sequel with the Autobots logo in place there.
While I'm not necessarily sure that we need this many Transformers movies in the works at one time, there's no denying that they will come no matter what, and kids are gonna snatch up all the new toys that come with them.