John Boyega Joins Kathryn Bigelow's Detroit Riots Movie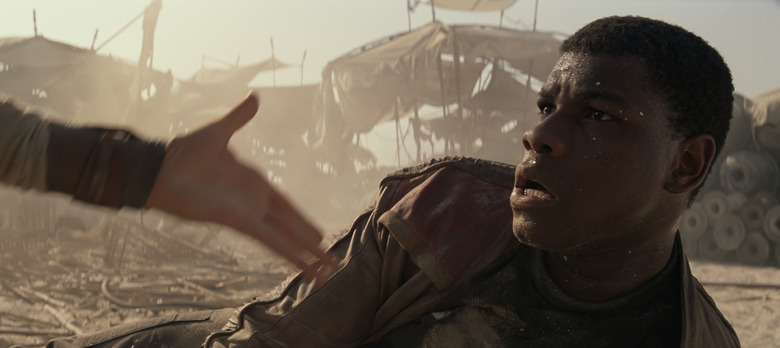 John Boyega first got famous battling aliens, became a household name after jetting off into outer space, and recently signed on to battle giant freakin' sea monsters. But his latest new role will bring him back down to earth. The Star Wars breakout has been set to star in the new movie by Kathryn Bigelow, about the 1960s Detroit riots. He joins Game of Thrones actress (and fellow Brit) Hannah Murray. 
Annapurna Pictures announced the John Boyega Kathryn Bigelow casting. Details about the film remain scarce, but it's described as "a crime drama set against the backdrop of Detroit's devastating riots that took place over five haunting summer days in 1967." It'll look at "systemic racism in urban Detroit," according to the press release, and is aiming for release in 2017 to mark the 50th anniversary of the riots. Boyega and Murray's roles have not been revealed.
The riots began in the early hours of July 23, 1967 when Detroit police raided an unlicensed bar and decided to arrest everyone present. Patrons and onlookers confronted the officers, and the conflict escalated into full-on violence. The riots continued for five more days, leaving 43 dead and a thousand more injured and resulting in thousands of arrests. Many homes and establishments were looted, damaged, or burned, resulting in tens of millions of dollars in damage.
With films like The Hurt Locker and Zero Dark Thirty, Bigelow has shown an affinity for chronicling hot-button topics, and more importantly for doing so with intelligence, empathy, and vitality. The Detroit riots may be set in the past, but it clearly has present-day echoes in the Ferguson protests, the Black Lives Matter movement, and the ongoing conversations about police brutality and race relations in America.
While Boyega is best known for sci-fi adventures like Attack the Block and Star Wars: The Force Awakens, but his overall resume is pretty varied. A few years ago he teamed up with Spike Lee for Da Brick, an HBO pilot that failed to take, and he co-starred with Chiwetel Ejiofor in the Biafran War drama Half of a Yellow Sun. More recently he had a recurring role in 24: Live Another Day. He'll next be seen in James Ponsoldt's The Circle, a sci-fi thriller starring Emma Watson and Tom Hanks.